NLA Outlines Measures To Rake In Revenue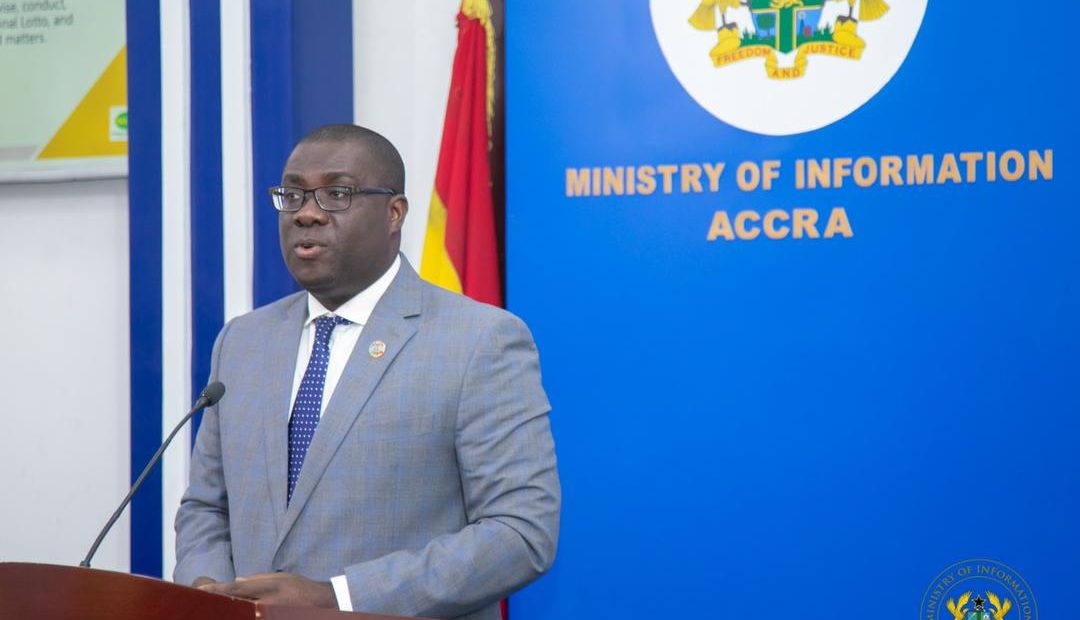 The Director-General (D-G) of the National Lottery Authority (NLA), Samuel Awuku, has outlined measures put in place by management to stabilize and raise revenue for the authority.
According to him, the company under his tenure has chalked many successes, including making it gain global recognition by putting NLA on the map and reconnecting with the African Lotteries Association (ALA).
He mentioned that, the company is also stabilizing its operations to rake in revenue.
Mr. Awuku,who took his turn to address the media at the minister's press briefing session at the Ministry of Information yesterday Monday, April 3, disclosed that chunks of NLA's outstanding debts have, so far, been cleared since he took over.
According to him, he met a debt of GH₵15million in unpaid wins, upon assumption of office, but efforts have been made to clear a greater part of the debt, with plans in place to clear the outstanding debt.
"I met a debt of about Fifteen million Ghana Cedis (GH₵ 15,000.000.00) in unpaid wins on the assumption of office.  As of now, we have cleared a greater part of the debt and we continue to make efforts together with Management to clear the outstanding debt," he said.
He revealed, "We have developed the Instant Pay *389*1000# for players to instantly redeem wins of up to One Thousand Two Hundred Ghana Cedis (GH₵ 1,2000) after the Draw."
"In partnership with our Corporate Lotto Marketing Companies (LMCs), we have also instituted Prize Payment Centers in our Regional offices nationwide for wins up to Twelve Thousand Ghana Cedis (GH₵ 12,000.00)," he stated.
We published below, excerpts of D-G's Statement:
On the Renegotiated Deal with KGL
-KGL Group's contract with the Authority was at Twenty-Five million Ghana cedis (25,000,000.00) in 2021.  Together with the NLA Governing Bard, we renegotiated the contract to Fifty-Five million Ghana cedis (GHS55,000,000.00) in 2022, with Two million Ghana (GHS2,00,000.00) Cedis supporting our Good Causes Foundation and Three million going into Stabilization Fund for our LMCs.  In addition, we have renegotiated the deal to Sixty-Five million Ghana cedis (GHS 65,000,000.00) for 2023 as part of the partnership deal.
Exporting our Games to Other Countries for Royalties: My initial trips to Ivory Coast and Nigeria would now pay off as both countries will soon pay us royalties of Eighteen Million Ghana Cedis (GHS18,000,000.00) and Thirteen Million Ghana Cedis (GHS13,000,000.00) respectively, for drawing our Games online through KGL Group.  This means we will receive Ninety-two Million Ghana Cedis (GHS92, 0000,000.00) from KGL Group this year.
We have also begun engagements with Burkina Faso and Niger to trade our games and collaborate with them.
Licensing of Private Lotto Operators (PLOs)
– To sanitize the lottery space and generate revenue for National Development, I continued a process that my predecessor began, i.e. licensing Private Lotto Operators annually.
Operators who want to operate under the framework of the National Lotto Act, 2006 (Act 722) pay a sum of One million, five hundred thousand Ghana Cedis (GHS1,500,000.00), while those who operate under the Veterans Administration Ghana Act, 2012 (Act 844) pay a sum of Five Hundred Thousand cedis since we have their franchise to operate their games.
source: Anchorghana