Tarkwa MP Condemns Attack On Golden Star Mines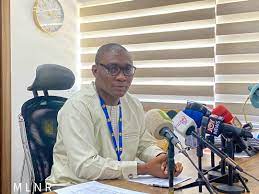 The Member of Parliament (MP) for Tarkwa-Nsuaem, George Mireku Duker,has condemned unreservedly the recent attack by some illegal minerson the Benso concession of the Golden Star Resources (Wassa Mine) in the Western Region, describing the incident as "uncultured behavior."
In a press releaseon Thursday, March 30, 2023,the MP explained, "Mining is a key backbone of our economy and, with a surge in company-community conflict, it will have a tendency to dampen investor confidence in our mining industry," adding that, "such uncultured behaviour must be discouraged at all levels."
According to him, theThursday 16th March attackon the company, which falls under his constituency,had negatively impacted on the general life of the people of Subriso and its environs.
The MP, who is also the Deputy Minister of Lands and Natural Resources responsible for Mining, assured there will be a swift investigation into the unfortunate incident by the supervisory ministry, the regulator, as well as security agencies,to ensure the culprits are brought to book.
"Pursuant to this, the Ministry of Lands and Natural Resources, Minerals Commission, Ghana Chamber of Mines and the Security Agencies will dispassionately investigate this preposterous incident to ensure that, perpetrators are made to face the full rigors of the law," he stated.
The lawmaker said, "I further urge Nananom and key actors of the respective communities to collaborate closely with the government for a better working environment in the mining sector."
He recounts that, "The unfortunate attack which stemmed out as a result of misunderstanding between security officials of the company and some illegal miners led to the destruction of over 30 vehicles and lots of other valuable assets of the Mine, resulting in a total breakdown of the entire operations of the mine."
Recall, on Thursday 16th March,the rampaging illegal small-scale miners set on fire some properties belonging to the Golden Star Wassa Mine at Benso in the Western Region.
The illegal miners, believed to be non-indigenes of the area,set 12 vehicles, among other assets, ablaze, including excavators, ambulances and pick-ups, forcing the staff of the company to run for their lives.
This aside, the attack has been condemned by many, including the Ghana Chamber of Mines, as well as chiefs from the WassaFiase traditional area.
According to the Chamber, in a statement issued by its Chief Executive Officer (CEO), Dr. Sulemanu Koney,the situation presents a growing state of insecurity for Ghanaians and other international citizens working at the mine, the larger mining industry and the country.
"The Chamber is greatly concerned about the upsurge in attacks on mines in the country and the increasingly hostile and violent acts of the perpetrators, despite the presence of police officers at the mines. The attack has saddled the mine with huge and avoidable costs in the replacement of destroyed
assets and creates a sense of insecurity for the workers of the mine, who are largely Ghanaians," excerpts from the statement indicated.
The statement pointed out that mining is a catalyst for development and any attack on a mine is an attack on national development.
Source: Anchorghana