ECG Pays Meter Reading Staff Paltry GH₵1,000 As Salary
Details are emerging that officers employed by the state-owned Electricity Company of Ghana (ECG) for the reading of its postpaid meters across the country are not paid well, as many receive a paltryGH₵1,000 as salaries for years without any increments.
Interestingly, they are also not entitled to any allowances, like transport, medical bills and provident fund, among others, a situation The Anchor gathered has demoralized the commitment of the officers for ages.
According to sources, the conditions of service for these officers are so bad that some have had to borrow money from families and friends in order to go to work, without any effort by management for redress.
"You are under this scorching sun from Monday to Saturday and when you are sick you are to pay your hospital expenses from the meager salary they pay you, you are not entitled to anything, in fact nobody cares about you and your welfare yet you are expected to work hard," one of the contract staff complained.
This paper is reliably informed that there are some who have been engaged as meter readers and have been working for 24years, 15 years and eight years now, but have not received any salary increment since.
This revelation, insiders told The Anchor, accounted for the inability of the company to properly recover millions of electricity power consumed by customers leading to huge sums of revenue going down the drain.
The managing director (MD) of the company, Samuel Dubik Masubir Mahama, in a recent interview, disclosed that the ECG presently has about 800 officials reading over 2.5 million postpaid meters, covering all the regions it supplies power to.
This category of workers, who are largely contract staff of the state power distributor, told The Anchor there is no motivation in the work they do, in spite of thesacrifices and risks involved.
According to this paper's information, the issue has been in existence under all successive governments, as all efforts to get management of ECG for adjustment have been unsuccessful.
Some of the officers who have been speaking to this paper on condition of anonymity described their situation as disheartening.
They said, "When the dog is hungry while he goes after a prey after getting hold of the prey the hungry dog wouldn't bring the prey to his master but will quickly feed on the captured prey without the master knowing."
According to them, "These 800 meter readers are paid peanuts and can hardly survive. Transportation fares are at the roof, prices of food items have gone up over 200%, but the meter reader cannot even get management to give us a listening ear."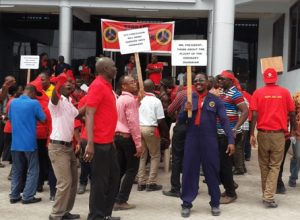 They further said, "There's a saying in our local parlance 'NOBODY TAKES/SENDS A HUNGRY DOG TO HUNTING.' The meter reader is always ready to support this company in her dream to be effective and efficient power distributor in this country, we have critical roles to play in achieving this but we cannot do this effectively when we are less motivated and hungry."
They said, "By this we are appealing to management as a matter of agency to listen to our cry, things are becoming difficult each passing day for the meter reader."
"These 800 are not staff or officers but rather contract staff which some have been on contract for more than 24years, No annual leave, no transportation, no medical care for us under this harsh weather. Some have died leaving their wife and kids. Even that 800 workers have never been officially trained to read that over 2.5 million postpaid meters. Hmmm please we are ready to assist u in any investigation. There is more to this story," they stated.
Another officer also disclosed, "Boss, there is more to the story. As for our conditions of service it's very sad. No training, no risk allowance, no medical allowance, provident fund, nothing.Your health issues all do not concern anybody."
He also corroborated that, some of their members have lost their lives and left behind their wives and kids, but without any support or package for the family.
"Can you believe that some have been on contract for 24years? Yes, contract not permanent and you are not entitled to anything…Hmmm boss, we are over 800, I'm a meter reader. I've been on contract for eight years and receives GH₵1,000, not a transport fare to transport the bills to the customers," another officer alleged.
They stated that, anytime they complain about their situation their superiors would tell them that their engagement is a contract and everything is inclusive.
They are, therefore, pleading with management to do something about their conditions of service to motivate their work.
Meanwhile, even though many have viewed the 800 postpaid meter reading officers as woefully inadequate and unacceptable, the MD, who was appointed last year, says much has not been done under the circumstances because the resources to hire more hands are unavailable.
The company, he said, is also unable to increase the number of these meter readers to an appreciable level, because it does not want to overburden the government.
This revelation, which has since left many scandalized, perhaps exposed the inefficiencies of the company, as well as those at the helm of affairs, on why they could not recover about GH₵5.7 billion debt, owed the company all these years, but go out to lament over revenue shortfalls.
"ECG has 2.5 million postpaid customers and 800 meter readers. So, clearly you know that the business model is what is wrong. Where do you pay them from? It has to be at the cost to the state. There should be a balancing act. Don't get me wrong, postpaid systems are not bad if you have the right processes of reading them and making sure that the bills are churned out constantly and the people follow up to pay, believe you me, it is a good system to have," the MD said.
Mr. Mahama, who said this during an in-studio interview on Accra-based Joy FM's morning show on Monday, March 20, 2023 and monitored by The Anchor said that, this and other reasons, is pushing the company, to embark on its recently announced massive revenue mobilization exercise.
Many have wondered how a paltry 800 officers would effectively read about over2.5million postpaid meters and mobilize enough revenues for ECG.
Some have pointed to this as one of the reasons why the company has been inefficient for years and always relying on tariff increments to stay in business.
More To Come…
Source: Anchorghana