Aisha Huang, Others Receive Special Treatment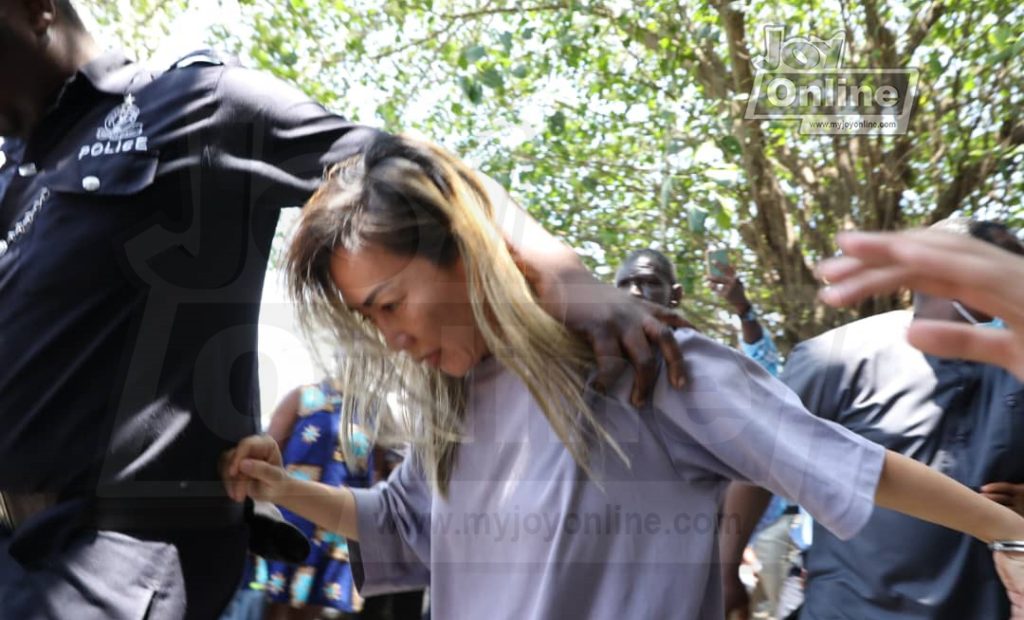 The notorious Chinese illegal-mining queen, Aisha Huang, who is facing prosecution for her involvement  in illegal-mining activities, appeared in court yesterday, like a superstar.
Aisha, who is perhaps the most popular household name in Ghana now, together with her three other accomplices, was seen shockingly driven in a black Landcruiser to an Accra Circuit Court, unlike the kind of treatment often given to Ghanaian accused persons.
Interestingly, the Chinese were also not in handcuffs, a direct opposite to what Ghanaian suspects go through when they are being taken to court.
But this appears unusual, especially so because of the allegations against Aisha, who has been described as a possible Chinese spy, allegedly on a mission to destroy Ghana's forest reserves, with active connivance with her accomplices.
In the past, suspects, mostly Ghanaians, have been carried in pickups, ordinary police vehicles, taxis and commercial transports, commonly called 'trotro.'
These preferential treatments have apparently caught the attention of some concerned Ghanaians, who have taken exception to it, taking into consideration, the circumstances surrounding Aisha's return to the country, under very bizarre fashion, after she was first "deported" in 2018.
Some social media users, who took notice of the luxury being showered on the galamseyqueen, have wondered the intention behind the action by the Ghana Police.
Expressing their disgust, some users expressed shock on their timelines on Facebook.
One Stephen Nartey Mezo wrote: "Handcuffing suspects and dumping them in pickups to court is only reserved for Ghanaians. Another person Barnabas Nii Laryea also said "So Aisha Huang was whisked away from court in a Landcruiser. Na Police Pickup bucket nu it's for Nii Laryea?"
Ei. Amoh Samuel said, "No handcuffs? Is that the new rules or it's because she is a foreigner? I hope this time, they have an interpreter."
Meanwhile, there was drama in court when the case of the suspect was called in court.
Aisha is being held on charges of the sale and purchase of mineral resources without a licence and engaging in illegal-mining.
During the proceedings at the Accra Circuit Court, something seemed off about one of her accomplices.
The said lady was earlier seen escorted into the court premises, wearing a black T-shirt.
A few minutes before the ruling was delivered by the judge, the Chinese national was said to have collapsed.
Reports said that she purportedly took ill and was conveyed to a hospital.
"Before we realized, she had just collapsed and had to be taken by the policemen and rushed out to the hospital," a Joy Fm report said.
She was however remanded, despite her absence, for the rest of the session, as prosecutors got the court to extend a warrant of arrest permitting them to hold Aisha for at least two weeks, while they carry out further investigation.
The Galamseyqueen, Aisha Huang, and her accomplices will remain in police custody, as their request for bail was turned down.
The lead counsel for the accused, NkrabeaEffahDartey, questioned the state's decision to repatriate Miss Huang in 2018.
He described her alleged offences as minor ones which he was prepared to defend only to have her deported in circumstances he considers strange.
"The law did not disclose that the Parliament of Ghana had passed any law to declare her a persona non-grata. The law does not show that there was any executive order to have her deported. She was told to come for a meeting and the next thing I heard, she had been flown out," the lawyer said.
Source: Anchorghana