Takoradi Market Circle redevelopment project nears completion – STMA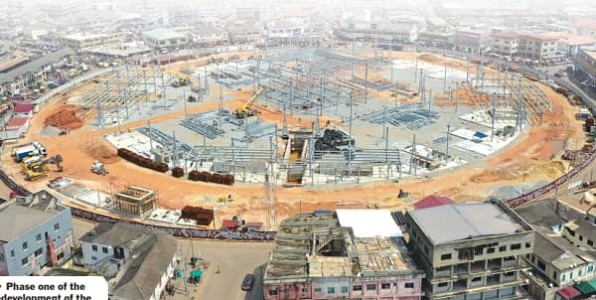 Redevelopment works on the reconstruction of the 100-year-old Takoradi Market Circle project is almost completed, officials have said.
Director of the Takoradi Sub Metro of the Sekondi-Takoradi Metropolitan Assembly Nana Asempaneye Yeboah II made the revelation during the maiden edition of Connect FM's The People's Parliament.
Hundreds of traders in Sekondi-Takoradi participated in the programme to express their opinions.
Some of the issues raised by the traders included when the new Takoradi Market Circle project will be completed and how the sheds will be distributed without chaos.
Responding to the complaints, Nana Asempaneye Yeboah II told Nhyiraba Paa Kwesi Simpson, the host of the Omanabapa morning show, that the reconstruction work is progressing steadily.
According to him, various components of the project are almost completed.
"We visit the project site regularly to update ourselves on the redevelopment project and I can assure you the project will soon be completed. The project comprises many components. Preliminary work is 100 percent complete whilst earthworks which constitute 6 percent of the entire project is 5.577 percent complete. The foundation is also 100 percent complete with steel works which constitute 18 percent is also 13.97 percent complete. The roofing constitutes 6 percent of the entire project and so far, that is 4.20 percent complete," he indicated.
Reacting to how the shed in the new market will be distributed after completion, Nana Asempaneye Yeboah II said: "Whoever had a space in the market before the new project began will be issued with green cards after we validate all the traders.
"These green card automatically qualifies a trader to secure a space when the market is complete. Thos€e who were occupying the sheds of other traders will be issued yellow cards. This category of traders will only be served with sheds after all those with green cards have been satisfied. If hawkers avail themselves, we will issue them with red cards, for them, we can only give them space after all those with green and yellow cards have been served," he added.
The redevelopment of the Takoradi Market Circle project being undertaken by Messrs Contracta Costruzioni Itlai SLR is expected to be handed over to the government of Ghana by 2023.
The €48 million project is being financed by the Deutsche Bank S.p.A Italy.
The president, Nana Addo Dankwa Akufo-Addo,cut the sod for the project in 2020.
Source: Eric Nana Gyetuah|Connect FM|3news.com|Ghana