Margins ID Group Boss Honoured
… Named As 'Iconic Manufacturing Personality Of The Decade'
Moses Kwesi Baiden, Jnr., the founder and chief executive officer (CEO) of Intelligent Card Production Systems (ICPS), a subsidiary of the Margins ID Group, has been awarded as one of the top iconic manufacturing personalities of the decade by the Entrepreneur Foundation of Ghana.
The presentation ceremony, which took place at the Margins ID Group Head Office, in Accra, celebrated Mr. Baiden's outstanding achievements and remarkable efforts in the manufacturing sector.
In his acceptance speech, Mr. Baiden expressed his heartfelt appreciation to the outstanding team at ICPS and the board of directors.
"Receiving this award is not just a personal achievement, but a recognition of the hardwork put in by the great people at ICPS and Margins ID Group. I thank the board for their leadership. They've shown this is not the effort of one man, it's the effort of a team of very determined leaders," he added.
Gratitude
He also acknowledged his over 25-year partnership with Mr. Peter Blom, the progressive chairman of ICPS, who has been a pivotal figure in the challenging journey of establishing a high-tech card manufacturing facility in Ghana.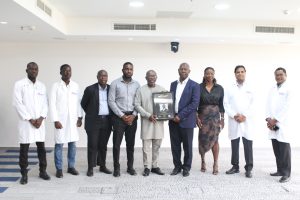 Reflecting on the award, Mr. Baiden realized that he is the only native Ghanaian among the top 10 awardees; people who may be legally Ghanaian and even hold Ghanaian passports, but are not of Ghanaian descent. He, therefore, emphasized the importance of fostering local manufacturing and innovation to strengthen Ghana's economy.
He also expressed his disappointment at the lack of support for Ghanaian companies, like ICPS, which can produce high-quality products and services.
"From 2007 to 2023, ICPS has been producing different variations of the Ghana Card, the first secure National ID Card to be produced on African soil. It saddens me that people have been calling for cards to be imported from other countries when we have the best card and document manufacturing facility in the world, right here in Ghana," he bemoaned.
Elangovan Sukumaran, the card production manager at ICPS, who witnessed the ceremony, underlined the factory's unique combination of security certifications, including Visa, MasterCard, Intergraf and ISO standards, further cementing their reputation as a top-tier card manufacturer.
"We are so proud to be recognized as one of the security card manufacturing companies in Ghana. This is the only factory in the whole of Africa that has a combination of product security certifications like Visa, MasterCard, ISO, and Intergraf at the central banking level. We aim to produce more sophisticated cards, adopt upcoming technology, and showcase Ghana as a leader in card technology," he said.
Commendation
Ato Gaise, the chief executive officer of the Entrepreneur Foundation of Ghana, commended Mr.Baiden for his remarkable journey from humble beginnings to becoming a key figure in the manufacturing of the Ghana card.
He noted that the Ghana card has become an essential part of life in the country, further underscoring the significance of Mr. Baiden's work.
"I was driving by your Ringway office one day with a friend and I asked, 'Have you seen this place? This is where Margins Group began.' To put it succinctly, when you reflect on where you began and where you are today, it how much you have grown as a company and the enormous impact you have made, especially with the manufacturing of Ghana Card; a product as valuable as gold. Taking all of these factors into account, my team and I reached an agreement that honouring you is well-deserved," he noted.
This award not only celebrates Mr.Baiden's personal achievements, but also highlights the importance of fostering local manufacturing and innovation to strengthen Ghana's economy. It reaffirms that with dedication and hard work, Ghana can continue to achieve greatness in the field of manufacturing.
Source: Anchorghana.com