Margins Group, KGL Donate GH₵1.4m Towards Mfantsipim Sports Complex Project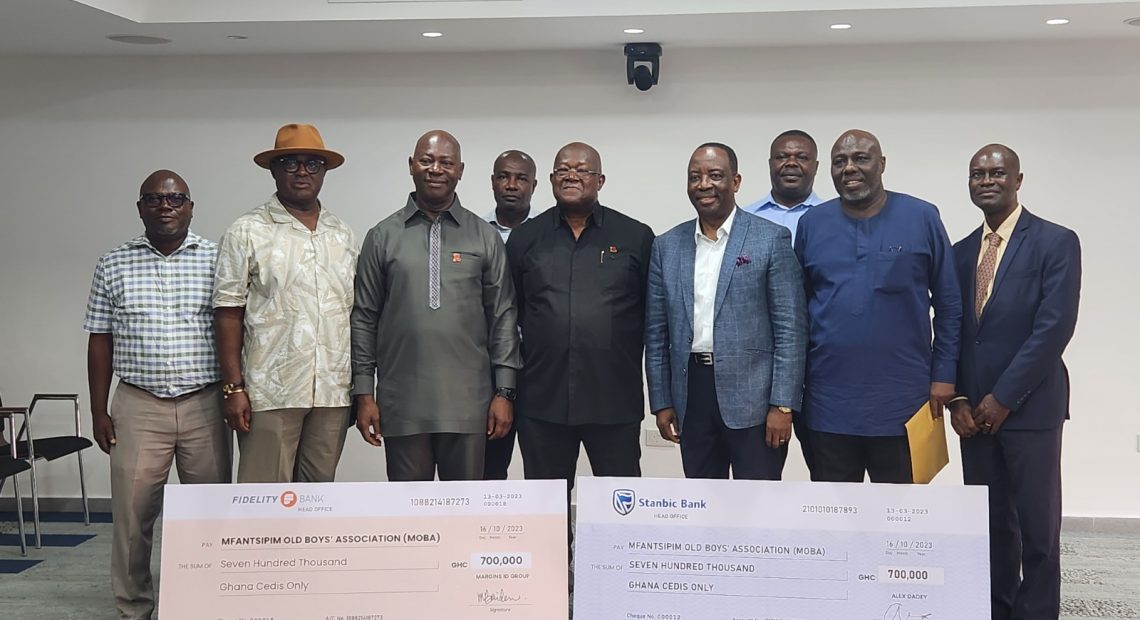 The Mfantsipim Old Boys Association (MOBA), 1983 year group, has donated a staggering GH₵1.4million to MOBA, towards the construction of the Mfantsipim Sports Complex.
The event took place at Margins Group's Head Office in Accra and was made possible through the dedicated efforts of two remarkable MOBA members, Moses K. Baiden, Jnr., ('83) and Alex Dadey ('79).
In attendance were distinguished MOBA members, including Capt. Paul Forjoe, President of MOBA; James Morgan, Executive Secretary; Isaac Andoh, Vice President of MOBA '83; Ato Williams ('79), Frank Oye ('83), and Ferdinand Aggrey-Fynn ('83).
MOBA '83, a 2023 Speech Day year group, was entrusted with the responsibility of raising GH₵800,000 for the Mfantsipim Sports Complex, a project led by the Ebusuapanyin (MOBA President), Capt. Paul Forjoe.
Moses Kwesi Baiden, Jnr., the CEO of Margins ID Group and member of the '83 fundraising committee, was tasked to secure the necessary funds for the construction of the sports complex.
"Recognizing the significance of the project, I approached the subcommittee of the board of Margins Group and appealed to them to allocate GH₵700,000 from their educational initiative under their Corporate Social Responsibility fund to support the project," Mr. Baiden recounted.
He added that, "It was successful, and Margins Group, on behalf of MOBA '83, has graciously contributed GH₵700,000."
Understanding that more substantial contributions were necessary to reach the ambitious target of GH₵18million set by the Ebusuapanyin, MOBA '83, led by Moses Baiden, reached out to Alex Dadey of MOBA '79.
KGL Donation
Both old boys share a strong bond with the school, and it was this connection that drove Alex to give an equal amount of GH₵700,000 to match Margins ID Group's donation.
Alex Apau Dadey, CEO of KGL, reminisced about his journey as a student-athlete at Mfantsipim and how the school groomed and nurtured his talent in sports.
"Mfantsipim is where I discovered my talent and passion for sports, and now, it's my turn to give back. Our donation is not just financial; it's a way of expressing our gratitude to the school that shaped us. We have come this far because of Mfantsipim," he said.
The collaboration between the two illustrious alumni was swift and fruitful, resulting in a combined donation of GH₵1.4million, under MOBA '83. Their dedication and generosity have set an inspiring example for MOBA members, demonstrating the power of alumni networks and shared commitment to the development of their beloved school.
Gratitude
The MOBA president, Capt. Paul Forjoe, expressed his gratitude for the substantial donation, emphasising the positive impact it would have on the school infrastructural development.
"In accepting this donation, I urge all old boys to emulate this excellent gesture as a sign of love and commitment to our school," he added.
The Mfantsipim Sports Complex project, once completed, will stand as a symbol of excellence and provide an outstanding environment for students to nurture their athletic talents and embrace a culture of physical fitness.
It will also serve as a valuable resource for the broader community, promoting health, wellness and the spirit of togetherness.
Source: Anchorghana.com