152 Kindergarten schools study under trees in the North East Region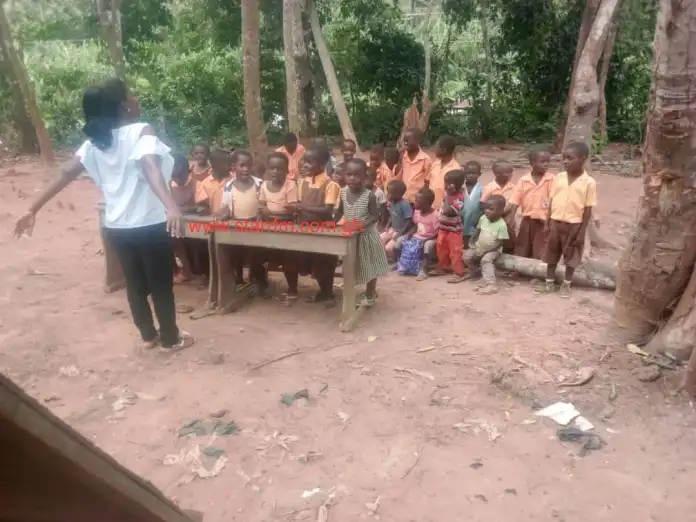 A total of 152 of the 366 public Kindergarten schools in the Northeast Region have classes under trees. Most districts in the Northeast Region suffer from an infrastructure deficit due to a lack of funding.
As per EMIS data from the Ghana Education Service for 2022, Kindergarten enrolment in the North East Region is approximately 36,060 pupils, of which 18,067 are boys and 17,993 are girls.
The development which was revealed during the Regional Stakeholders Forum on Early Childhood Education in the region further indicated that there are 563 qualified trained KG teachers in the region and 53 untrained KG teachers.
The forum organized by Children Believe Ghana with funding from KOICE also touches on the need to improve the quality of care, teaching and learning, and infrastructure at the Early Childhood Education centers in the North-East region.
The Country manager for Children Believe Ghana, Esenam Kavi De-Souza urged the Assemblies to prioritize early childhood education in their planning and budgeting activities.
Chereponi district has the highest number of schools under trees in the North-East Region with 58, followed by West Mamprusi with 23 and Bunkapurigu / Nakpanduri with 22.
As a result, East Mamprusi Municipal is at the bottom of the list with 12 schools under trees, followed by MampruguMoaduri with 18 and Yunyoo-Nasuan with 19.
The North East Regional Coordinator for Early Childhood Education, Mumuni Zakaria in an interview with GHOne News explained that the region does not have enough teachers at the KG level and most teachers posted in the area have a challenge with the language.
The regional Stakeholders forum was on the theme: "Achieving SDG 4 – Building a Solid Foundation for Children, A Call to Invest in Early Childhood Education."
Source: Starrfm.com.gh
Source:Anchorghana.com