Add Fibroid Treatment To NHIS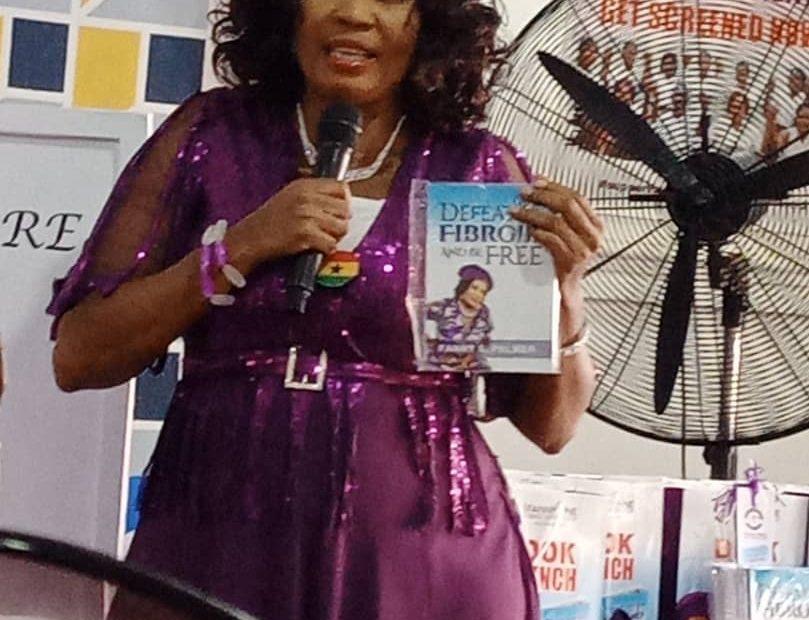 – Survivor Pleads
By Gifty Arthur
Government has been called upon to include the treatment of fibroid to the list of diseases covered by the National Health Insurance Scheme (NHIS).
The call by a fibroid survivor, Fanny S. Palmer, is to help women who suffer from the disease to seek proper medical care.
According to research, even though there are no known causes of fibroid, about 80 percent of black women, globally, are at risk of it.
Fanny S. Palmer is worried that even though developing fibroid is not a death sentence, many women are unable to seek the needed help because it is expensive.
She believes adding it to the list of diseases catered for by the scheme, will help save lives and reduce the number of women with the disease, who may be at risk of not being able to bear children, or live normal lives.
"The treatment of fibroid is very expensive in Ghana and most women cannot afford it, especially women in the rural areas, and because of that most women find it difficult to seek medical attention. In most cases, most women with fibroid suffer in silence which sometimes leads to maternal mortalities.
"I am appealing to the president of Ghana and all stakeholders who care about women health, to do something and also review the NHIS policy, so that women who suffer from fibroid can get treatment," she said.
Fibroids are a benign tumour of muscular and fibrous tissues that grow in the walls of the uterus of a woman at child-bearing age. It is non-cancerous, but it is often treated through surgical operation or medication.
Risk factors include a family history of fibroids, obesity or early onset of puberty.
Symptoms include heavy menstrual bleeding, prolonged periods and pelvic pain. In some cases, there are no symptoms.
Fanny Palmer said aside from the treatment being costly, it is also under discussed and women who carry it are often stigmatized.
The Ghana-based Sierra Leonean, who said this at the launch of her maiden book "Defeat fibroid and be free," last Saturday, July 29, in Accra, said it is time issues of fibroid were brought to the front burner.
She said considering the disturbing nature of the disease, which is prevalent in black women, government must lead the charge in the campaign not in Ghana, but the sub-region, to find lasting solution to it.
"Ghana is capable of leading and winning the fight against fibroid in Africa. According to research, 80 percent of women, especially black women, suffer from fibroid. Our lives matter and something must be done our lives and procreation is in jeopardy.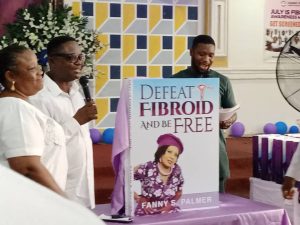 "I call on the Minister of Gender, Office of the First Lady, buoyant organizations, the media and other stakeholders that we need to come together and have consultative meetings and map out constructive research to be done on this deadly disease as it is swept under the carpet. We need policies to be developed so that necessary medical services, alternative treatment and adequate finding would be allocated for women that are suffering from fibroid," she said.
She further said fibroid, which often goes with surgical operations, have had women, especially in the rural areas, unable to fund it, because they do not have the resources,condition that sometimes leaves them childless.
Delving more into why she had to write her memoir on the disease, Fanny S. Palmer, said she decided to do this not only to share her experience, but create the awareness, as far as she can, to help women seek the needed help.
She said the book is not only inspiring but brings hope and empowerment to women suffering from fibroid.
Speaking to the media on the sidelines of the launch, Fanny said she is committed and determined to take the awareness campaign to various places, including homes and schools, to help educate girls and young adults.
In her case, the founder of Super Kids Academy at Teshie, a suburb of Accra, said she could have died from the disease after going through surgery for four times in 2015.
She said the frustration and discomfort women with fibroid suffer, especially when, after marriage, children are not coming, make it important that attention is paid to it.
"I am a fibroid survivor and a fighter. My experience with fibroid led me to write this book. I am using my story to empower women and girls suffering from fibroid and raise awareness not only in Ghana and beyond, so I say fibroid get ready for me.
The fact that fibroid is under discussed adds to psychological stress for women and girls who are suffering from it. It increases shame and stigma, but this book will be a change to the narrative as it empowers women to break the silence and talk about fibroid," she explained.
She expressed concern on how some women with fibroid are unable to wear white outfits during that time of the month because of the heavy flow.
She further called on society, and especially men, to learn more about the disease by getting copies of the book so they can support their partners, wives on the path to seeking help and also stop stigmatization.
The Head of Chancery at the Sierra Leone High Commission, Joseph Spencer, who happens to be the elder brother of the author of the book, recalled the harrowing experiences his sister went through while going to the many procedures to be fibroid free.
He said Fanny Palmer is a "living testimony" and so serves as one of the right people to give primary information to others, hence the birth of the book.
Mr. Spencer, who represented the High Commissioner, charged women not to feel shy about the disease, but speak freely about it and talk to the right people, go to the hospital for proper diagnoses for treatment so they do not lose their lives, respect, self-esteem and marriage.
"Go to the hospital, have the checkups. The good thing is, we have advocates. My sister continues to advocate to members of the community, so our sisters will not continue to lose their lives, they will not lose prestige and their respect. I want us all to know the lives of our wives, women matter," he said.
Director of Social Welfare at the Krowor Municipality, Evelyn Nanbigne commended Fanny Palmer for contributing her quota to the awareness creation, adding that fibroid has denied several women their own children simply because they did not seek early treatment or they were shy to discuss it.
In a brief remark, Madam Nanbigune said she is a witness to women who have suffered the disease and so joins the call to make it a topical issue so that the attention that it needs is given.
She called on women not to be shy of their status, but rather go for checkup and work toward removing them so they can live their lives.
Source: Anchorghana.com