Africa Must Have A Say In Pricing Mineral Resources – Deputy Minister Advocates
– Minister Advocates
A Deputy Minister of Lands and Natural Resources in charge of mining has said that, mineral resource producing countries in Africa must come together and have a common voice in determining prices and trading of the world's minerals.
According to George Mireku Duker, conscious efforts should be made by these countries through value addition and take advantage ofavailable continental frameworks, such as the African Continental Free Trade Area (AfCFTA), to trade among themselves.
The deputy minister, who made the call, as the leader of Ghana's delegation during a panel discussion, at the second Egypt Mining Forum, hosted by the Ministry of Petroleum and Mineral Resources, in Cairo, the Egyptian capital, stressed that, it was crucial that countries pay attention to value addition in order to garner the needed revenue for their growth.
Speaking on the theme, "Balancing Resources & Responsibility – Collaborative Strategies for Sustainable and Responsible Mining," Mr.Duker, who doubles as Member of Parliament (MP) for Tarkwa Nsuaem, also called for stable legal and regulatory frameworks in mineral-resourced countries in Africa, to encourage investors and serve a worthy cause for the continent.
According to him, this will help make these countries attract more investors and also encourage them to stay for longer period of time.
He said such a measure will also ensure that, these investors and their investment do not leave the shores of the continent, at the least challenge just because the frameworks are not well grounded and reliable.
Mr. Duker, who led the delegation, on behalf of the sector minister, Samuel Abu Jinapor, said, this will help citizens benefit from Local Content policies, to generate decent employments and wealth.
AfCFTA, established in 2018 and headquartered in Accra, Ghana, aims to boost intra-African trade by providing a comprehensive and mutually beneficial trade agreement among the member states, covering trade in goods and services, investment, intellectual property rights and competition policy.
Mr. Duker believes taking these steps will assist these countries to have a familiar and common voice and say in determining prices and trading of the world's minerals, of which Africa produces a chunk amount.
The deputy minister also boasted about Ghana's stable democracy, saying it makes it a preferable destination for all forms of investment, especially mining.
Often, Africa is advised to negotiate a common framework in harnessing its critical mineral resources under AfCFTA to accelerate the development of the continent.
It is also encouraged that Africa seizes the opportunity provided by energy transition to spur development, as failure to do so will not augur well for its cohesion and make worst the poverty levels.
To make mining the basis for economic development, Africa must have a common agenda for the extraction of its critical mineral resources.
For instance, speaking at an international conference on Energy Transition, Africa's Extractive Resources and the Future of Africa's Development, few months ago, the director of the United Nations University Institute for Natural Resources in Africa (UNU-INRA), Dr. Fatima Denton, expressed fear the history of Africa's energy poverty will remain unless it leads the discussion on energy transition.
Dr. Denton said that, what Africa needs to do is to move away from depending on export and rather invest heavily in value addition of its natural resources.
She further stressed the need for the continent to diversify its economy, from mineral and fossil to tourism, agriculture and services, to create jobs for the teeming youth, given the transition from fossil to green and cleaner sources of energy.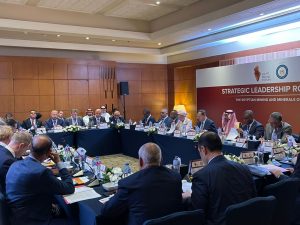 "Africa is in a pole position to lead in the green transition and to reduce energy poverty," she stated.
Dr. Denton observed that Africa had huge green market and opportunity to invest in green energy, saying the AfCFTA was an opportunity for Africa to trade in green energy.
She stressed that Africa must showcase its critical minerals and rely on them to develop and transition to cleaner sources of energy.
She argued that could be achieved through changing the power relations between Africa and the developed economies.
The second edition of the forum on Egypt's premier mining, minerals and commodities event took place from 18 – 19 July 2023 in The Nile Ritz-Carlton, Cairo. The forum brought together key regional stakeholders, international mining companies and investors who are looking to do business in Egypt and North Africa in general.
It shed light on Egypt's financing roadmap and how foreign investment and partnerships will be key drivers to unlocking value within the mining sector.
More than 40 speakers discussed these topics and more, providing the most significant meeting of regional and global stakeholders, including mining majors and juniors, investors and government project owners from Africa.
The forum highlighted 120 years of geological discoveries in the country.
Some of the 40 speakers were Engineer Tariq Al-Mulla, Minister of Petroleum and Mineral Resources, Bandar Al-Khorayef, Minister of Industry and Mineral Resources in the Kingdom of Saudi Arabia, in addition to a number of mining ministers, representatives of countries and heads of companies participated in the forum.
The forum discussed the latest emerging opportunities in the field of Egyptian mining, positive developments in terms of policies, licenses, legislation, investment and exploration opportunities, mechanisms for facing global and industrial challenges, and ways of advancing dialogue on technology and sustainability.
It also shed light on global developments in this industry, opportunities, challenges and efforts to reduce emissions and green transformation in the mining sector.
More than 2,000 decision-makers in the fields of the mining sector participated in the forum, and provided the participants with opportunities to communicate and establish new business partnerships during the forum.
The Egypt Mining Forum also includes an exhibition hosting 50 exhibitors and 34 sponsors representing various sectors of the mining supply chain.
Source:Anchorghana.com