Adutwum 'Blackmails' Bawumia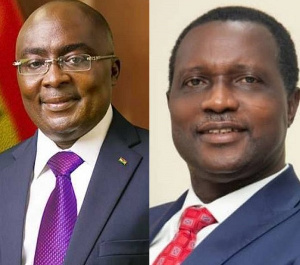 The Minister of Education, Dr. Yaw Osei Adutwum has been caught in what could be described as blackmail in his endorsement of the Vice President, Dr. Mahamudu Bawumia as the New Patriotic Party (NPP) flagbearer for the 2024 election.
Although, lots of ministers and Members of Parliament (MPs) have openly endorsed the Vice President to lead the NPP, the tone of the MP for Bosomtwi in the Ashanti Region, has raised eyebrows.
Dr. Adutwum, who touted the good works of Dr. Bawumia shot himself in the foot as he was widely seen as someone who would like to partner with the Vice President for 2024.
After speaking at length, he said: "So today, I want to declare here that all those who love Dr. Adutwum across the length and breadth of Ghana, I whole-heartedly and fully endorse the flagbearership of Dr. Bawumia.''
''Wherever he goes, I am going to follow him. If you love Adutwum you love Dr. Bawumia, My people of Bosomtwe, follow me to push this man to the top and I believe that he will never forsake Bosomtwe,'' he said.
To the surprise of the NPP people present, he said: "He will do what you are praying for. You have shown love to me, show love to Dr. Bawumia too.''
The NPP persons at the meeting saw the position of the education minister as touting himself as someone who was popular among Ghanaians and took the opportunity to catch the attention of the Vice President.
Per what the Bosomtwe NPP people are saying, it was all over the place that Dr. Adutwum was a potential running mate and that was the reason why he said Bawumia would do what the people of Bosomtwe were praying for.
According to them, Dr. Adutwum was singing praises to himself as having people all over Ghana that love him so he should be considered as the running and nothing else.
"Such subtle moves and personal agenda will not help because this is an internal contest and some of us expect that such endorsement will be done with proper and good intensions,'' they said.