Access To Potable Water Increased In Builsa South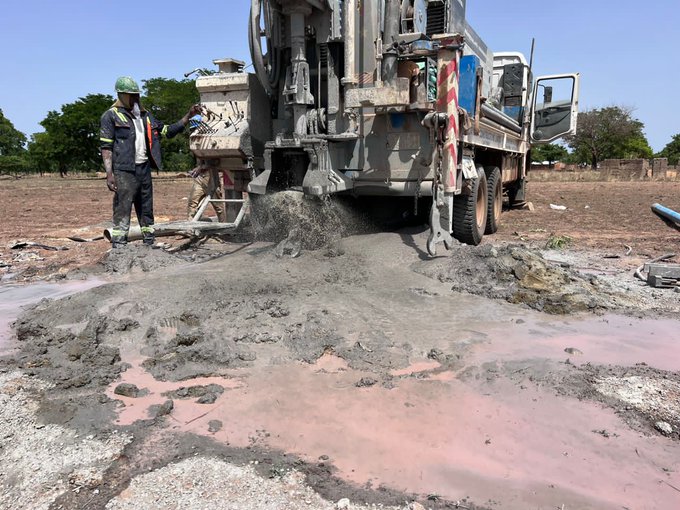 …As Apaak Repairs 43 Broken Boreholes
The Member of Parliament (MP) for Builsa South in the Upper East Region, Dr. Clement Apaak, has completed the second phase of his "operation fix broken-down boreholes," as part of the measures to tackle water shortage and increase access to potable drinking water in the constituency.
The latest phase saw  the National Democratic Congress (NDC) lawmaker repairing a about 43 broken-down boreholes at a total cost of GH₵103,100.
The beneficiaries include 22 communities in the Builsa South district, who have been struggling for access to potable water for sometime now.
It would be recalled, the phase one witnessed 29 boreholes fixed at different communities at GH₵54, 800.
This brings the total number of boreholes repaired by the MP in this year alone to 72, at a cost of GH₵157,900.
In the case of phase two, out of the number, Al-Shaa Company Limited repaired 38 boreholes at GH₵99,200, while five were fixed by one Mr. Akan bongnaaba at GH₵3,900.
Dr. Apaak told The Anchor that, the now functionable boreholes would help alleviate the water challenges facing the constituency.
According to him, he was elected to serve his people, and will continue serving their interest so long as he remains their representative in the august House.
Earlier, in a statement issued by the communication officer for the constituency, Adams Immurana Kambara, he said the move was in fulfillment of a pledge made by the MP.
"Water, they say, is life. In line with Sustainable Development Goal 6 (SDG 6), which states that 'Ensure availability and sustainable management of water and sanitation for all, the Member of Parliament for Builsa South Constituency, Hon. Dr. Clement Apaak, through his private funds, contracted a company, named AL-SHAA Company Limited, to repair and fix all broken-down and malfunctioning hand pump boreholes across the Builsa South constituency.
"This is in fulfillment of the pledges he made during his thank-you tour of the whole constituency, when he toured and thanked constituents for voting and retaining him as their member of parliament for Builsa South. Almost all communities in the constituency he visited complained about the broken-down boreholes and how they affected their livelihoods in diverse ways," Mr. Kambara stated.
He continued: "In a quick response to the plight of the constituents in this regard, he instituted a project known as "Operation Fix All Broken Boreholes in Builsa South. This benevolence of the Honorable MP had an overall positive impact on eighteen (18) communities."
He further indicated that, in all, a total of 29 broken boreholes were repaired and returned to service.
"Before this project, the MP had dug twenty-four (24) boreholes from 2021 to present, and repaired several malfunctioning ones to ensure that people had access to potable drinking water.
"The MP stated that plans are well underway to drill ten (10) additional hand pump boreholes in the constituency to supplement the existing ones. The MP, on the other hand, warned assembly members and community leaders to take good care of boreholes and report any problems to him," the communication officer stated.
Source: Anchorghana.com