Cash-strapped 'Daily Graphic' Unable To Pay Salaries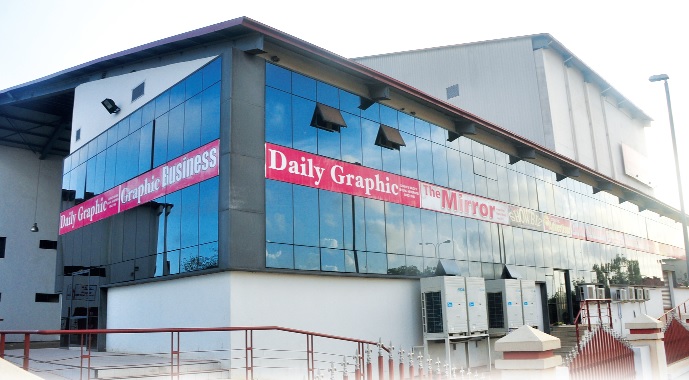 There is an uneasy calm at the state-owned Graphic Communications Group of Companies Limited (GCGL), as the company is alleged to be facing some financial challenges and, thus, unable to pay its staff for this April.
Even though this April month has long ended, the workers, with the company's subsidiaries, including the Daily Graphic, Ghana's biggest selling newspaper; the Mirror, Junior Graphic, Graphic Showbiz, Graphic Sports and Graphic Clinic, have all not been paid.
A short notice sent to staff, intercepted by The Anchor, reads, "Good afternoon team Graphic, please be informed that April salaries have delayed because of cash flow. It will be paid in batches when we have enough money to start disbursement. Kindly bear with us."
This has resulted in the gnashing of teeth among workers who say the company is their only source of income, after certain benefits and incentives, such as fuel and leave allowance previously enjoyed had already been stopped without recourse to them.
The situation, The Anchor gathered, is being blamed on lack of cash flow. But some workers insist that the management, headed by the managing director (MD),AtoAfful, should be blamed for their woes.
Some workers say, their information is that, in the event that there is availability of money, they will be paid in batches, but, even that, they have no idea when this will commence.
Despite how biting the situation is, coupled with the current economic hardship across the country, the management has refused to indicate when their salaries would be paid into their respective accounts.
The only available communique said to have come from one Mavis Kyerewaa, of the Corporate Communications Unit (CCU), issued last Tuesday, May 1, has even angered the already peeved workers.
According to the staff, the communique lacked clarity and demanded for better explanation and proper date on which they would be paid.
The message, which has been sighted by The Anchor, reads, "Good afternoon team Graphic, please be informed that April salaries have delayed because of cash flow. It will be paid in batches when we have enough money to start disbursement. Kindly bear with us."
Reacting to the Corporate Communications Unit message, a staff said, "Good morning CCU, please checking from Audit yesterday the payroll has not reached the Audit Unit for them to work on it,so even if cash flow is the problem, we can't still be paid till Audit works on it and Finance pay. Please give us the right information because it's tough for most of us."
Another contributor rebutted, saying "Just like that. At least, tell us this or that date we will start so that we can at least psych our minds towards. To leave us in the dark like this is bad.The message itself lacks a commitment to ensure that there is adequate money. What is being done to ensure there is that adequate funds?"
Another also lamented, saying "The tone of the message is that of insensitivity towards the plight of workers. At a time that certain benefits we used to enjoy we are no more getting including fuel which I learnt from a few people they have not received for sometime now, our salary, which is our only means of survival is being delayed. The content of this message and whoever approved it, should at least show some form of remorse or concern to the delay and the inconvenience it will cause workers.
That will at least alleviate our pain like the way ECG and GWCL, etc., do when announcing disruption in their services. But here we are, we are, nothing in the content of this message to show that somebody is concerned about what this delay will cause us. God help us. Just we are worrying for the delay can go a long way to reduce our pain."
According to this paper's sources, this has been the case since the beginning of this year, with each month delaying. Since January, salaries have delayed and paid long after bit by bit to the surprise of many workers.
A source who spoke to The Anchor on condition of anonymity said even bonuses for the Christmas festivities were not paid to them. Messages from the Unionized staff social media platform is one of anguish, frustration and anger.
Some of them blamed the current financial challenges on management who they say have failed to use the company's finances judiciously.
They say for instance director of finance who refused to make payment for Christmas bonuses has allegedly rather increased his salary upon his return from the festivities this year with the excuse that he is doing more than one person's job.
Interestingly, many of these workers are doing equally double jobs and even more, because the company is under-staffed due to financial challenges.
According to the source, the editor of the Daily Graphic, Kobby Asmah, who retired earlier this year, was given his official car which costs over GH₵300,000 fora paltry GH₵90,000.
Some of the aggrieved workers say these are happening because the company has failed to diversify into other business ventures, and failed to account for programmes sponsored and organized by the company.
They suggested management hands over the organization back to government if it cannot manage the company well which hitherto was viable and making profits.
Source: Anchorghana.com