My Lover Is Now My Enemy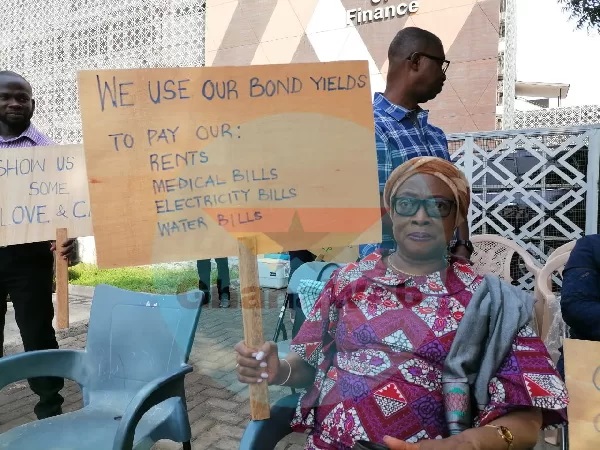 The former Chief Justice, Madam Sophia Abena Boafoa Akuffo, has described the on-going Domestic Debt Exchange Programme (DDEP), rejected by pensioner bondholders, as a lover who turns out to become an enemy because of his deceitful ways.
According to her, the situation is unpleasant and will simply term it as not just a case of a lover being deceitful, but rather turning into an enemy, stealing from her.
Speaking in Twi days ago, when she joined other colleague bondholders at the Ministry of Finance, where the group has been picketing and demanding a complete exemption from the programme, the 73-year-old argued that, they will not accept the raw deal being handed them.
"For this, I would not just say my lover has deceived me, I will say my lover is now my enemy and wants to 'cut' me, or steal from me!" she said.
Earlier the same Friday, February 10, Madam Akuffo said the decision to include pensioner bondholder was wicked, disrespectful and unlawful and threatened to sue the government if it goes on with it.
She argued that people picketing were hardworking and patriotic Ghanaians who have worked over the years to invest their moneys into these bonds. She said what the government is doing is like forcing them at gunpoint to agree to something they reject.
"These are all people who have worked, they have worked very hard, they could have left the country when others were going, but they stayed, they worked for the nation.
"We have had our ups and downs. A lot of us were from generations where we were encouraged to save for tomorrow and all that. We have been through times where all your savings become nonsense because of some government policies, then over the years, bit by bit, people have become more confident in the economy and investments.
"Quite a number of people here today, when they retired last two years, they have put everything into government bonds, it is a contract and now all of a sudden, you virtually want to, at gunpoint, force them to agree with you that the repayment of the yield of their investment should be as you dictate it. Why?"
Now her current comment, though has been lauded, has come as a huge surprise to many who consider her as more or less a member or someone close to government.
Madam Akuffo's outburst follows the refusal by the finance minister, Ken Ofori-Atta, to exclude pensioner bondholders whose moneys have been trapped as a result of the International Monetary Fund (IMF) condition programme.
The bondholders, some as old as 81, have since last week been picketing at the finance ministry, demanding total exemption of their investments from the exchange programme.
This is after government rescinded its earlier decision by proposing a 15% coupon rate at 5 years maturity. But Madam Akuffo's showing up at the ministry apparently rather rustled feathers.
As a high-profile personality, her presence attracted all the attention, and this appeared not to have gone down well with some government spokespersons who have taken her to the cleaners.
One of such is Gabby Otchere-Darko, who did not understand why the pensioner bondholders are picketing when they have the option to reject what has been proposed by the government.
In a series of tweets, the private legal practitioner said, "As an individual bondholder myself I wish to join the others in thanking those like SenyoHosi, Gayheart Mensah and co, who volunteered to lead the advocacy resulting in a far better offer for individual bondholders (particularly pensioners) than the original offer. Ayekoo!
"While I have sympathies for those picketing, I think we should be bold enough to ask them what really is the purpose? Why picket over an offer which you have the liberty not to accept? You are asking to be exempted but from an improved offer programme which is voluntary!
"The former Chief Justice, Sophia Akuffo, may mean well, but she erred big time in her basic appreciation of the issues. Rather than asking the Govt for exemption at this late hour, why did she simply not 'exempt' herself from exchanging her original bond for the new one!
"Why picket over something you don't like (the improved offer) when you have the right not to sign up? Sorry, but I struggle to get her emotional outburst over-exemption! I hope she won't volunteer to picket tomorrow and on the same issues when the time to sign up has expired," Gabby wrote.
He continued to lament, saying "I was among those who pleaded for the exemption of pensioners. But, the Govt had to balance all that with the need to protect the economy for the 33m population and settled on the 15% yield maturing in 5yrs instead of 15, and that the individual was FREE not to participate.
"For a former CJ to take up a noble cause such as she did but at such late hour when all was done and for all that publicity, she owed it to herself and her social standing to have understood the issues far better than what she exhibited last Friday. She is bigger than that."
Gabby's tweet was followed by the Director of Communication for the NPP, Richard Ahiagbah, who also joined in the chorus by questioning the basis for the CJ's action.
According to him, the former Chief Justice, if she had any reservations, could have opted not to sign up as the government is not imposing the programme on individual bondholders.
"The Finance Minister has on several occasions said that the programme is not compulsory but voluntary. So I am confused as to why the former CJ protested yesterday (i.e. Friday). There are others who are willing to participate in the programme and did not come out to protest so if we have the choice to participate, and she prefers not to, then the basis for her protest is not clear.
"I do not understand why she chose to demonstrate over something she has the freedom to choose," he was quoted as saying.
Source: Anchorghana