Musician Keche's Billionaire Wife Joins NDC MP Race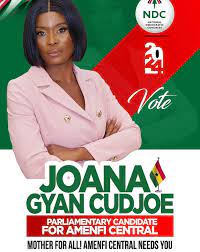 Wealthy businesswoman Joana Gyan Cudjoe has jumped into the political space to announce her intention to go into active politics through Parliament.
Joana, who is married to Andrew Kofi Cudjoe, one of Ghana's hip-life duo,"Keche," is lacing her boots to contest the Amenfi Central constituency seat in the Western North Region, on the ticket of the opposition National Democratic Congress (NDC).
The successful business mogul, who until her declaration, was unknown in the Ghanaian political environment, excitedly made the declaration on the photo and video sharing social networking service app, Instagram (IG),a few days ago.
In a short post to announce the task ahead, Joana wrote on her IG handle "Vote for me please."
The NDC, through itsgeneral secretary, Fifi Kwetey, announced guidelines for its parliamentary and presidential elections yesterday, January 18.
Before she realizes this ambitious dream, Joana will have to unseat the incumbent Member of Parliament (MP), Peter Yaw Kwakye-Ackah.
The MP, who is in his second term in the august House, is himself from the umbrella group, but it is becoming increasingly clear that his seat is under threat.
Political watchers say if Joana decides to follow through her declaration, considering that she is well resourced, the incumbent will be no match for her, even though she may be a political neophyte.
But The Anchor cannot tell if the incumbent will even be seeking reelection for the 9th Parliament in 2025.
Interestingly, Mrs. Cudjoe has published a photo, captioned "Mahama we are sorry," apparently indicating that Ghanaians have regretted for not voting for former President John Mahama, who was the NDC's flagbearer for the 2016 and 2020 presidential elections.
Joana, who has several businesses to her name, is the chief executive officer (CEO) of Golden Empire Legacy Limited, a company which specializes in mineral exploration, mine operation, mineral processing and commercialization of precious minerals.
Reportedly the under-listed businesses belong to her: GEM Multimedia Ghana Ltd, Colossus Minerals Ltd, Joana TV Ltd, GEM Rhythms Ltd, The GEM Ltd Pub, KESSE Music Ltd, GELL Golden Page Ltd, GELL Farms Ltd,  GELL Petroleum Ltd, GELL Real Estate Ltd, KBA Mining Ltd, Joana Gyan Foundation, GELL Timber Ltd,  ZEMA Ghana Jewelry and Fashion School, Ltd andRoyalsekt Ghana Limited.
In a related development, the National Democratic Congress has announced 13th May, 2023, for both the Presidential and Parliamentary primaries.
This was announced by the General Secretary of the NDC, Fifi FiaviKwetey at the party headquarters in Accra on Wednesday, January 18, 2023.
According to the party, parliamentary candidates will pick a form at a cost of GH¢5,000.00, and pay filing fee of GH¢40,000.00 which is non-refundable.
The cost of the forms for the presidential candidates is GH¢30,000.00 and file same at a non-refundable fee of GH¢500,000.00.
Nominations will be opened from 22nd to 24th February 2023, the NDC General Secretary stated.
Filing fee for females and persons with disability has been halved.
Submission of forms and filing is slated for the 20th to 22nd March, 2023.
Vetting is also scheduled to happen from March 27th to March 29th, 2023.
Possible appeals are scheduled for 30th March to 6th April, 2023.
Source: Anchorghana