Mineworkers Blow Alarm On Chiefs, Others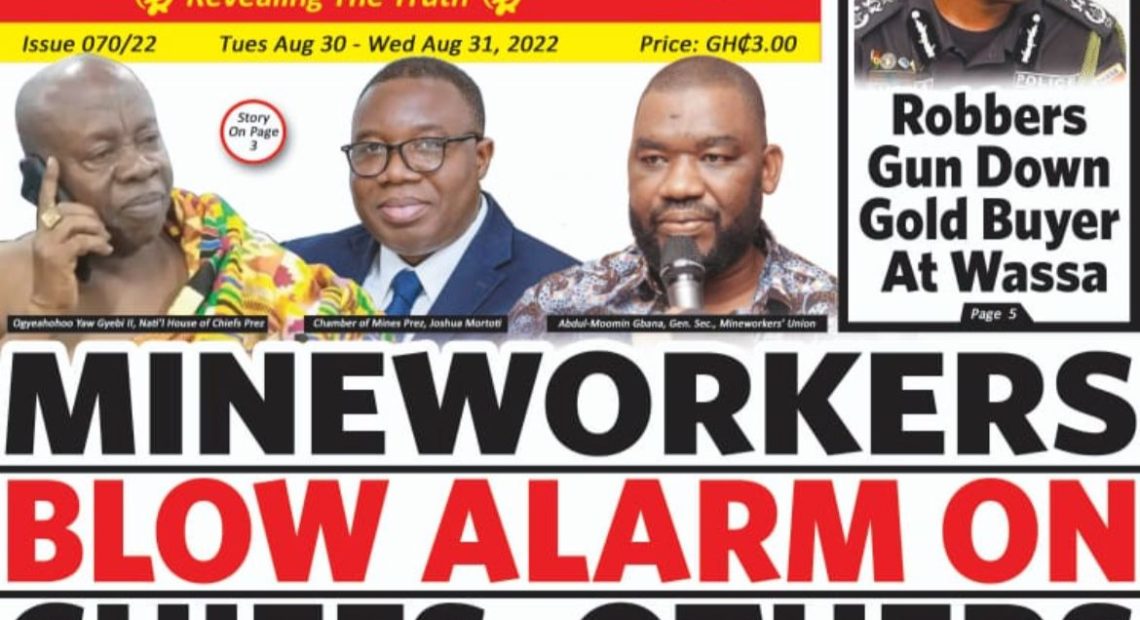 It is emerging that some chiefs, opinion leaders, and assembly-members in some mining areas are using their influence to, allegedly "squeeze" moneys from jobless individuals seeking to be employed in the mining firms within their jurisdictions.
The Anchor has gathered, so serious is the situation that at some instances indigenes, especially, the youth, have had clashes with their elders and called them out, for facilitating jobs for non-indigenes while they remain unemployed.
Leadership of the Ghana Mineworkers' Union, who confirmed this to The Anchor said, the development has become so rampant in the mining communities, and putting the safety of their members and companies in serious danger.
General Secretary of the Mineworkers' Union, Abdul-MoominGbana, told The Anchor some of the traditional rulers have turned themselves into conduit, through which recruitments of people outside the mining communities, are done at a fee, calling for immediate policy formation for recruitment of Mineworkers
"One of the underlying concerns that we sought to highlight was the issue of some traditional leaders who have virtually made themselves recruitment agencies and for that matter conduit for citizens of this country to gain employment.
And so, most often than not, rather than facilitating these opportunities for the target group which is normally the community, some of them will rather take (we have information where) money from outsiders and facilitate employment for those persons," he said.
According to Mr.Abdul-MoominGbana, "we have situations where the indigenes who are normally young men and women or the youth, of these mining communities, will get agitated because they will find people who ordinarily should come from the community – but who rather come from elsewhere working while they hang around these communities without any opportunities for work".
This undesired act is said to have resulted in confusion and name calling, for the biased role these chiefs and opinion leaders play in the recruitment of these "outsiders".
The union disclosed that, the issue has caused their members to become a target for the indigenes where some of their colleagues were kidnapped and sometimes shot by unknown gunmen.
Speaking to The Anchor after a recent meeting with Deputy Minister of Lands and Natural Resources, George MirekuDuker, the General Secretary of the Mineworkers called for a clear-cut procedures and processes, in recruiting these jobseekers into the mining industry.
He said for these youth not to feel left out, government must intervene to ensure that the issue is treated with the needed attention to end the disturbances.
"If we don't handle the approach very well, we are going to continue to witness disturbances that we have seen. The youth will always rise up against people who are coming from outside and also, their own traditional leaders, because they allege that these traditional leaders take money from other people, from other places, in this country and not offer them employment at their expense", he added.
The Mineworkers secretary noted that, they are deeply concerned because they do not want to record attacks in the nature of xenophobia in these mining communities.
He said in these agitations where these indigenes feel left out in the scheme of things, other people from different parts of the country could easily become targets for no fault of theirs.
"The second leg to our complaint is that, there is a growing penchant where mining companies that operate within these mining communities, having their young men and women or the youth, agitating against others for securing employment and we sought to raise that, we do not want any situation that has semblance of what happened in South Africa about two years ago, xenophobic attacks".
He stressed that recruitment by mining firms must be done transparently and fairly and not left to some select few saying it will not only bring sanity and enhance their security, but it will end the frequent agitations and rancor between the youth and the chiefs.
The Union said it will not augur well for the communities, the companies and the country if the issue is swept under the carpet. In his view, in the event that measures are not put in place, sooner or later, citizens from other parts of the country, will fear moving to places either than theirs to seek greener pastures.
"So if for example we have Fantes, Nzemas, Wassa who think that because you are an Ashanti woman, Ga woman or because you are a Northerner, or Dagomba woman, you cannot be in employment in any mine or their catchment area then, that in itself will raise security concern.
So it will get to a point where those who do not live in those communities, will live in fear and even access to employment, will become an issue.
Because I won't go to the Western Region, or the Ashanti Region, to the Eastern Region or to the Northern Region just because I want acquire employment only for me to be hounded down" he said.
The Union leader suggested that the chiefs can be engaged in the recruitment process if the policy designed for such purpose so wish but demanded that, such a move should be done transparently with no favoritism.
"If they are going to use the traditional leaders as a conduit for recruitment then they should work with the traditional leaders to ensure that there is a fair procedure and there is fair mechanism that allows for some transparency so that at the end of the day youth don't go chasing the traditional leaders and alleging that traditional leaders have taken money from people outside and denying them job opportunities", he said inclusion.
It comes at a time founder and leader United Progressive Party (UPP) Akwasi Addai Odike has incurred the wrath of the Kumasi Traditional Area, after he accused chiefs in the region of being neck deep in illegal mining menace, notoriously known as 'galamsey'.
Source: Anchorghana