Tarkwa, Australia Begin Sister-City Development Journey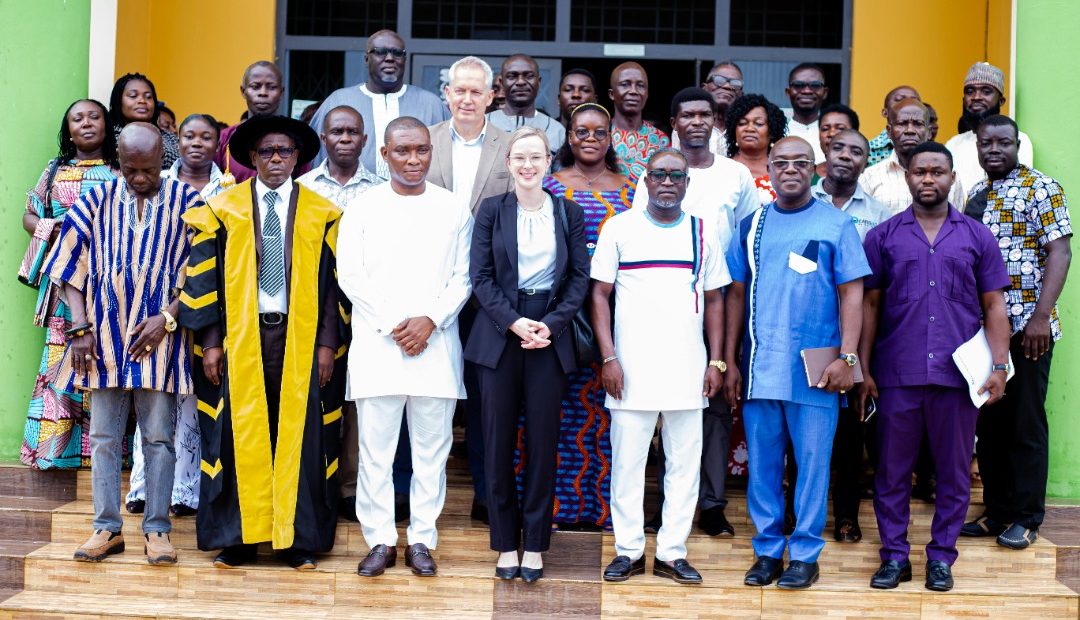 Member of Parliament (MP) for the Tarkwa-Nsuaem constituency in the Western Region, George Mireku Duker, continues to seek development supports for his constituents in that part of the region.
The latest is that the MP, together with the Austrian government, are set to commence an initiative to develop Tarkwa, a small scale-mining hub, which produces 40 percent of Ghana's gold.
The programme shaped in the form of the popular sister-city initiative, which will be between Tarkwa and a yet-to-be selected city in the European country, will be seeking to bring mutually beneficial results to the two cities.
A sister city relationship is a broad-based, long-term partnership between two communities in two countries. A relationship is officially recognized after the highest elected or appointed official from both communities sign off – on an agreement to become sister cities.
The MP, who is also a Deputy Minister for Lands and Natural Resources, revealed this, when he hosted the Australian High Commissioner to Ghana at Tarkwa-Nsuaem on Friday.
"Her Excellency; the success of the sister-city project will go a long way to deepen the relationship between Ghana and Australia, where "An Annual Ghana-Australia Mining Week" can be held in Tarkwa, which will also boost Australia business interest in Ghana," the MP said.
Addressing the gathering, Mr Mireku Duker said the visit on Friday, sets the foundation for the establishment of the sister city relationship between Tarkwa and a city in Australia.
According to him, study of some cities in Australia gives them the assurance that Tarkwa as a mining town, can strike a sister-city programme with any of the mining cities in Australia.
"We have studied literature on mining cities such as Kalgoorie, Broken Hill, Bendingo, Pilbara areas of Karratha, Newman, Port Hedland and South Hedland, all in Australia".
Mr Duker said the outlook of Tarkwa-Nsuaem convinces him that, the City of Tarkwa can strike a sister city relationship with any of the above cities in the areas of: Bilateral Business and Trade (Mining); Educational Exchange Programs where; Lecturers and Students of University of Mines and Technology could be exchanged.
Adding; "Tarkwa can have exchange programs with some of the World's prestigious Universities in Australia, notably, Curtin University, University of Queensland, University of New South Wales, University of Adelaide etc.
He disclosed that these exchange programmes with these recognized institutions can have cultural exchanges, as well as, developmental projects.
Arguing further for the initiative, Mr Mireku Duker added that the City of Tarkwa hosts the world's known mining institution, University of Mines and Technology (UMaT) with the vision to become a Centre of Excellence in Africa, for producing world-class professionals in the fields of mining, technology and related disciplines.
"It is imperative to state that, every mining operation globally, has a footprint of the product of the University of Mines and Technology. Currently, UMaT is the best engineering education destination in Ghana", he said.
Currently, Tarkwa holds three producing Mines, namely Gold Fields Ghana Limited, Tarkwa Mine, Anglogold Ashanti, Iduapriem Mine and the Country's only Commercial Producing Manganese Mine, Ghana Manganese Company.
According to the 2020 Ghana Chamber of Mines Report, The Two Gold Mines, Goldfields Tarkwa Mine & Iduapriem Mine in Tarkwa, produced Five Hundred and Twenty-Six Thousand, Two Hundred and Fifty-Six (526, 256) ounces and Two Hundred and Seventy-Four Thousand Five Hundred and Thirty-Seven (274, 537) ounces, respectively, totaling 800,793 ounces, out of 2, 845, 115 million produced by 12 Large-Scale Producing Mines in Ghana.
As a significant small-scale mining area in the country, the projections, according to the MP indicate that, the enclave accounts for at least 40% of total gold produced in Ghana.
This, he noted, makes Tarkwa a very significant backbone of the Ghanaian economy.
Touching on the various Australian investments in Ghana, especially, in the mining sector, the Deputy Minister listed Geodrill, Perseus Mining Ltd, African Mining Services Lycopodium, Castle, Azumah Resources, Noble Gold, Owere Mines Company Ltd, Barminco, and Geodrill as some of the companies that have thrived over the years, owing partly to the long-standing relationship between the two countries.
"The above activities have contributed significantly towards the economic development of Ghana through the payment of Taxes, Royalties, other levies and employment generation and the significant technological transfer of knowledge", the MP added.
On training and scholarships, Mr Mireku Duker acknowledged the many years of the Australian Awards Scheme, where since 2010 various students from Ghana have travelled to Australia to study numerous courses in different fields of endevours including mining.
Other Ghanaian government officials continue to participate in short-term capacity-building activities in Australia in the areas of trade, law, diplomacy, mining, etc.
Australia has also supported the Ministry of Lands and Natural Resources in its fight against illegal mining, through several joint initiatives.
"It is on this premise that, Tarkwa-Nsuaem wants to establish a relationship that could practically benefit the two naturally-endowed countries", he submitted.
The MP used the opportunity to plead with the High Commissioner, to grant visas to some constituents including chiefs, lecturers and opinion leaders, who will be participating in this year's Africa Down under Conference in Australia in August.