Kwahu Chiefs, Farmers Chase Agric Minister
…Over Alleged Destruction of Cocoa Farmlands for Private Business 
Some farmers along the Kwahu Nkwatia-Bepong road, a farming community near Mpraeso in the Kwahu South District of the Eastern Region, are fuming with anger, accusing the Minister of Food and Agriculture, Bryan Acheampong, of causing massive destruction to their farmlands, rendering them jobless and desperate.
They allege that farms, comprising cocoa, tiger nuts, cassava, tomatoes, garden eggs, pepper and okro, among others, have all been destroyed with bulldozers sent to the area by the Agric Minister, who doubles as the Member of Parliament (MP) for the Abetifi constituency.
Other reports suggest the takeover of the farmlands was to pave the way for construction of the Nkwatia to Bepong road, to ease traffic, especially during the Kwahu Easter festivities.
But Nana Boamah Twerefuor II, the Ankobeahene of Kwahu Obo, has rejected the road construction excuse, saying he does not believe the destruction being caused on the Kwahu Obo Ankobea Royal Family land, near St. Peter's, is just for road purpose.
He believes there is more to the destruction of the land than meets the eye, but he will not blow the cover for now.
Confrontation
According to the traditional ruler, when he confronted the minister, following the destruction, he admitted the act, but threatened him, saying that his government is in power and so, if he jokes, he will take everything and nothing will be done to him.
"He told me his government is in power. I swear on the stool I occupy," he told The Anchor over the phone yesterday.
Nana Twerefuor II continued, "He [Minister] said it is his government that is in power so if I joke, he will take all the lands from the Stool. Then I swore on the Obo Stool that he can never take the land from us."
But some of the farmers who say they agreed to the arrangement were promised a compensation package, but that is yet to be fulfilled, though all their farms are gone.
Voiceless
According to them, they have no one to speak for them and so are pleading with government to intervene so that what is due them is paid without further delay.
"Right now, the money I had is all finished, I am just going round borrowing. The work I did from all this land containing pepper and garden eggs, about two acres, have all been destroyed. All the chemicals, fertilizers are all a loss to me. Bryan Acheampong brought in machines to destroy them for a road.
"We were informed they were going to compensate us, but we have been waiting forever. But that is the same land I feed on and take care of my children. I have nothing to live on, so we are pleading with the government to intervene. They should come and look into what Agriculture Minister has done to us," one affected farmer said.
Another farmer who could not hide his frustration, out of rage, fumed at the minister for taking what rightfully belongs to him.
He said cocoa farm that was bequeathed to him by his late uncle has also been destroyed.
"The late Obo Ankobeahene, was my uncle the cocoa farm he willed to me to live after going for government loan, look at what Bryan Acheampong has used machine to destroy everything. We are calling on government. He says he respects no one or fears anyone so just look at what he has done. As I stand here, I am unwell.
"We are calling on government to intervene the issues at Kwahu. The havoc Bryan Acheampong is causing it should not wait to voting time. As I stand here, I have been NPP since I was a child. I know what NPP has done for us and if our government is in power and this is what my brother Bryam Acheampong who says he is Minister is doing to us. Look at the level of destruction by the Agric Minister.
"What we live on is what he has destroyed. Come and look at the cocoa farms that have been destroyed. The government should quickly come in because we can also take the law into our own hands and go to the back of his Rock City Hotel. It is now beyond us, he is using intimidation to grab everything from us. We want peace," another farmer said, when he took Kumasi-based Oyerepa Television to the site.
Nana Boamah Twerefuor II, Ankobeahene of Kwahu Obo, speaking to this paper, decried the action of the MP and minister.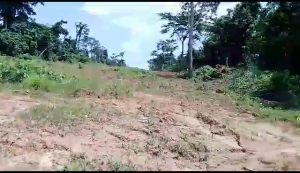 Meetings
He said the MP is going on this tangent after he met him and he requested about the unregistered land, and the traditional ruler told him it belongs to the stool and even encouraged him to get it registered.
"A while ago, he invited me and I went to meet him with my people at his Rock City Hotel about the same land. Earlier, he had bought a portion of the land that he has even finished building on it. So, he told me that his elders are disturbing him about the land. And I told him, Honourable, that land is not at Nkwatia. If it was part of Nkwatia, why is it that the late Nana Atuobi Yiadom did not sell even one plot? So that land is known to belong to us.
"Then he said his investigation has revealed that it has not been registered and that we should register it. And I told him we will register it and that if it hasn't been registered, it doesn't mean anyone can just go there to take it. Two months later, then I heard that someone has graded the land.
"When I asked, I was told it is Honourable Bryan Acheampong. I then called him when he will be available for discussion. When I went to see him, he admitted that he did the grading. So, I said I will take action against him. Then from there he went on the vast land to cause more havoc," he lamented.
He said last Monday, Oyerepa Television came to the area and they went on the land and there was still a grader on it, destroying the farms.
About a month ago, the same chiefs and residents held a presser at the Obo Palace where they publicly flayed the MP and aired their displeasure about the situation.
Two chiefs, Ankobeahene Nana Boamah Twerefuor II and Krontihene Nana Okofo Ampadu Kyeamire II, respectively, expressed grave concern over the lawless actions of the MP. They described the situation as unlawful and disrespectful.
Source: Anchorghana.com