Roads Minister Drags Prof. Adei To EOCO
…Over GH₵1million For Contract Allegation
By Gifty Arthur
The Roads and Highways Minister, Kwasi Amoako-Attah, has taken corruption allegation against his ministry to the Economic and Organized Crime Office (EOCO), headed by Commissioner of Police (COP), Maame Tiwaa Addo Dankwa, for investigation.
The minister wants the anti-graft agency to investigate claims by the former rector of the Ghana Institute for Management and Public Administration (GIMPA), Prof. Stephen Adei, that officials of the ministry take as much as one million Ghana cedis as bribe money before they award road contracts.
The former chairman of the National Development Planning Commission (NDPC), according to The Anchor's information, is expected to be invited by EOCO, in the coming days, if he has not been there already, to substantiate his allegation.
Even though his name was not particularly mentioned, Mr. Amoako-Attah is surprised that, though the award of contract is considered, among others, open and transparent, the Professor of will make such a serious allegation.
A statement from the ministry, dated October 23, 2023, signed by Head of Public Relations, Ahmad Yartey, said, "These allegations are surprising at the least because the processes leading to the award of road contracts are open, transparent, competitive and in accordance with the law."
According to the ministry, "Given that the alleged conduct borders on the commission of crime and against the Republic, the Minister of Roads and Highways, Hon. Kwasi Amoako-Attah, has today, 23rd October 2023, requested the Executive Director of the Economic and Organized Crime Office (EOCO) to fully investigate the allegations."
Earlier yesterday, a member of the government's Communication Team, Kofi Tonto, who hinted about the action by the minister, said Mr. Amoako-Attah was not taking the allegation lightly.
He disclosed that, he was aware of the minister's request to EOCO and, in no time, Prof. Adei would be made to substantiate his claim.
Kofi Tonto said even though the old professor did not do what the law charges him to do when one spots corrupt acts being perpetuated, the minister is offering him the opportunity to present his evidence before the organization so that these yet-to-be-named officials are made to face the law.
"Invariably what I mean by that is that, the law says if you see someone engaging in corrupt activities, there are appropriate quarters you have to go. You don't just come to public space, I haven't said he's a liar, I am actually holding him accountable that go to the appropriate quarters and provide the evidence so we can hold the corrupt people responsible because what Ghanaians want is to hold corrupt people responsible Ghanaians don't want to hear hearsays.
"That's not what Ghanaians want, jest stories? Ghanaians want evidence so we can jail people, we can hold people accountable and I can say on authority that the minister has written to EOCO, to investigate this matter, and I am sure EOCO is going to call Prof. Adei to provide evidence to substantiate what he said," Kofi Tonto said on TV3's New day programme, on Monday, October 23.
It comes on the heels of a recent interview granted by the senior statesman where he levelled series of allegations against government, blaming President Akufo-Addo for not doing much to stop ills in his government.
"This road contract would be given to you, provided you put one million upfront, not after you have gotten the money. This is what Akufo-Addo must be thinking about, and if he knows about it, he must be ashamed.
"That now his people demand from you a certain amount before you would be considered for a job. Why? Because when they get it, whether the government pays you or not, they have gotten their money, it is as if people are in a hurry to loot the country before the end of Akufo-Addo's term," Prof. Stephen Adei said on the programme.
Below Is Published, The Full Statement From The Roads Ministry: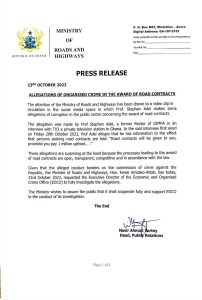 Source: Anchorghana.com