Baako Suro! Wontumi Runs To Police Over Ken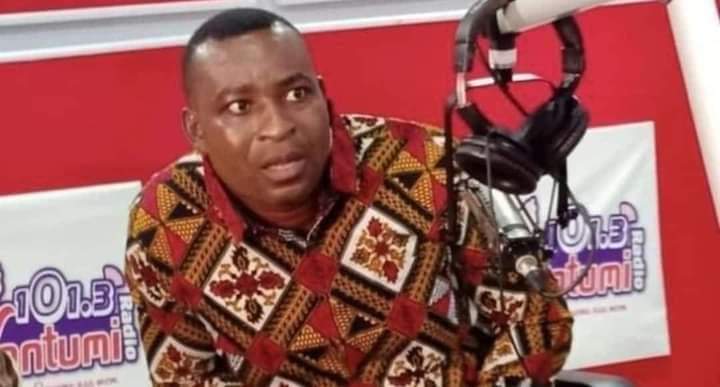 Loudmouth New Patriotic Party (NPP) Ashanti Regional chairman, Bernard Antwi-Boasiako, has said, henceforth, he will do everything to avoid the wrath of Mr. Kennedy Ohene Agyapong, one of the party's presidential hopefuls, who, he says, has a penchant for exposing people to serious danger.
Mr.Antwi-Boasiako, affectionately called "Chairman Wontumi," known for speaking his mind, particularly to his political opponents, says he is not oblivious of what the Assin Central Member of Parliament (MP) can dowhen it comes to one's security.
According to him, the MP is known to have threatened journalist, Ahmed Suale, which he suspects occasioned the latter's gruesome murder. Hence, going forward, he will prefer to report the MP to the police the next time he threatens him, for the law to take its course, than engage him in public exchanges.
Addressing the media yesterday in Twi, Chairman Wontumi said "Ken must listen to me, I will make sure he is arrested if he dares tarnish my image. We know what Ken does, he insults people and goes scot free, not me. Ken in the past insulted and exposed Ahmed Suale, I am not him. I will report him to the police for justice.
I love NPP, I will never say anything against the party or Kennedy Agyapong. I will always ensure the progress of the party. I will let the police arrest you if you threaten me again with your showdown comments. I'm advising you against such comments, your threats on Ahmed Suale's life caused his death."
He went on: "I'm not interested in you losing the elections, but please tell delegates what you can do for the party and desist from spewing derogatory comments against party members, and polling station agents. Just try to apologize to them. You have insulted chiefs, judges, and everyone in the country, everybody knows what you can do, change your attitude."
His comment is a rebuttal to Mr. Agyapong's recent attack on the businessman and politician during his "showdown" walk over the weekend in Kumasi.
The maverick MP, while addressing a rally in Kumasi recently, charged on Wontumi and Vice President, Dr. Mahamudu Bawumia, who is a frontrunner in the party's flagbearer contest, of collapsing the NPP.
But, in response, Wontumi accused Mr. Agyapong of snubbing all the bigwigs of the party and government, when he visited the region for the walk on Saturday, September 30.
Rather, he said, the self-acclaimed financier of the NPP opted to hurl invectives on these bigwigs, including him Wontumi.
"Is it true as Kennedy Agyapong alleges that I am destroying the NPP? You came to Kumasi, failed to meet up or call any of the leadership in the party and government in this region, yet you attacked the Regional Minister, you attacked Kyei-Mensah-Bonsu, you attacked the Education Minister and you attacked me, Wontumi. Now you are there playing saint that it is me rather that is destroying the party. Tell me, who is destroying the party?" he quizzed.
Enough of the threats
He said the threats from Ken Agyapong are becoming one too many.
"When he gets up, he says, we are all stupid. I regret for being in NPP, you are fools. 'The way you speak, I will show you'. It is a 'showdown' and all that, let it end today," Mr.Antwi-Boasiako warned the lawmaker.
He also justified his directive for all Alan Kyerematen's posters at various party offices to be removed after the former Trade and Industry minister resigned from the party and declared his intention to run as an independent candidate.
"I was justified in issuing directives for the removal of Alan Kyerematen's posters from party offices since he was no more part of the party, I was only doing my work, I never insulted him," he justified.
Ken, who placed second at the NPP Super Delegates Conference held August, dared Chairman Wontumi not to make a mistake to attack former member Alan Kwadwo Kyerematen, who placed third but later resigned from the party, to pursue his ambition to contest as an independent candidate.
Other than that, he warned, "he will see men in this country."
"He will see men in Ghana. He has set up a radio station and a TV station and just insulting elders," the presidential aspirant said in Twi.
"I am telling Wontumi that he should come and stand here. He was a 'thick' Alan supporter and I convinced him to support President Akufo-Addo. I have no problem. If you support President Akufo-Addo, I have no problem. If you support Vice President, I have no problem but don't insult."
Source: Anchorghana.com