I WON'T JOIN SOD-CUTTINGS AGAIN, NO LOBBYING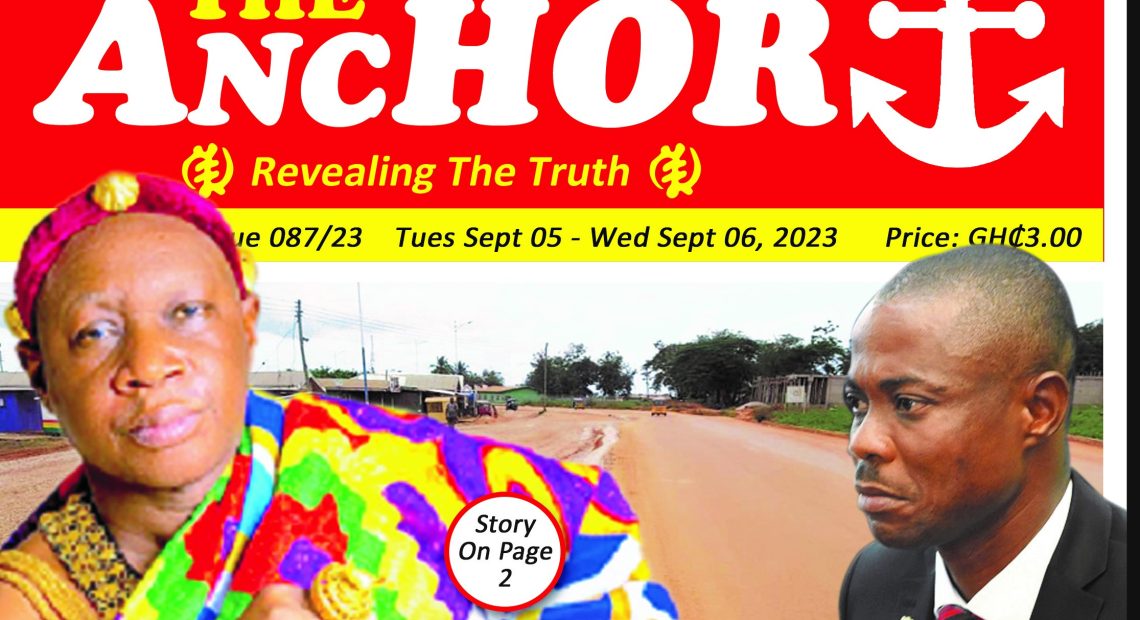 -Angry Goasomanhene Gives Up, Cites Sabotage Against Minister
The Goasomanhene, Nana Akwasi Bosompra I, has without mincing words expressed his frustration at several promises by government since the Ahafo Region was created, indicating he will henceforth not be part of some national assignments, including sod-cuttings and lobbying of projects in Accra.
"I have elected myself not to go to Accra to lobby for projects again. I have concluded my travels to Accra in the name of development. All that there's to be said I have said it already, so the new committee that would be formed, exclude me.
"Don't add my name because I won't go. It is dangerous sitting in planes, especially when nothing is coming out of it. You will sit in plane nothing will come out of it, you just come and to the dusty roads," he said in  Twi.
According to the outspoken traditional ruler, several infrastructure projects, related to roads, sports and other social amenities, promised by government under his jurisdiction, still remain unfulfilled.
Speaking at a recent gathering, attended by several dignitaries, Nana Bosompra I said he is pained at the pace of work in the region, especially a road stretch that passes right in front of his palace, saying it is taking too long to complete it.
Ahafo is one of six regions, which were created in the early years of President Akufo-Addo in 2018, to among others bring developments to the doorsteps of the people.
Plea rejected
But the Paramount chief of the Goaso Traditional Area said the uncompleted road project has brought so much discomfort to the people.
He rejected an appeal by the Municipal Chief Executive (MCE), Osei Yaw Boahen, for people to be patient, as projects of that nature take time to complete. The chief however insists the MCE's excuse is untenable.
"When MCE was talking, he said it takes time for the fowl to drink water. These days the fowl is not slow in drinking water. It drinks in large quantity and at the same time. If you look at how this road project has delayed and you live here and see dust all over, I can't agree with you, MCE.
"I am not happy with progress of work especially that stretch in front of my palace. It is disturbing if you go to the palace, everything there is buried in dust. So, we are pleading for you to get the contractor on site to complete it so that we can also have double road," he maintained.
He also said that he has resolved never to join in any form of sod-cutting, unless he sees the presence of the contactor in the company of authorities.
Astro Turf Fiasco
Nana Akwasi Bosompra I explained that he arrived at these decisions after an earlier arrangement to build an Astro turf did not materialize, as it continues to be a mirage even after allocating a piece of land for that project to take off.
Sabotage
He said the failure of government to start the construction of the sport project makes him suspect that, there is a grand agenda to sabotage the Deputy Minister, who happens to be the Member of Parliament (MP) for the Asunafo North constituency, Evans Opoku Bobie.
He said it was unacceptable for the government to appoint his nephew, who, until becoming an MP and subsequently a minister, was a successful banker, and set him up to fail.
The chief wondered what the deputy minister, who had said procurement process for the Astro turf project was ongoing, will tell his constituents when there is an election.
"MP said soon a sod is going to be cut, that one too on the said day, no one should invite me because I won't come. I want to hear him say he is coming with the contractor. I have done enough sod-cutting already.
"And I have noticed that there are some who I don't know if they are bigwigs who I don't know are in the Jubilee House or in the party [NPP] who are scheming to disgrace and sabotage my nephew, the Deputy Sports Minister.
"How can a Deputy Sports Minister not have a stadium in his constituency, not municipal or town, are you not setting him up for disgrace? So, after this year, what is he going to say to the people?
"A young man that was doing his banking job, if you knew this is how you were going to treat him why didn't you have left him to do his banking work? Why are you being saboteurs? There is an area where a minister comes from and they have only 41 houses, they have a stadium. Why are you treating him like this?" he said.
Neglect
Citing the situation in other areas, Nana Bosompra said, other regions, which are nowhere near the Ahafo Region, when it comes to population, since their creation, have had their Regional Coordinating Council (RCC) all in place, except his.
"There are many regions who have had their RCC completed. How come ours is still pending to the extent that we don't even know where the contractor is?" he lamented.
Issues With EC
He also has issues with the Electoral Commission (EC) decision to conduct a limited registration exercise at the district level and also Ghana's position on Niger, where a bloodless coup d'etat was staged last month.
On the EC's limited registration exercise, the Goasohene said it was disadvantageous for the electoral management body to choose that path, because targeted registrants may likely not be covered fully because of distance and other challenges, including financial constraints.
He tasked the EC chairperson, Jean Mensa, to be an agent of peace and not destruction.
"Our mother Jean Mensa, what is that she is doing? Has she come to Ahafo before? Does she know the town that comes after Asumura? Does she know the town after Nkasapii? So those persons are supposed to come with three witnesses, and come with car to the registration centre? Will she leave money for such people?
"We beg her, she should look at the story behind the birth of Jesus and do same. Let not confusion come because of her. She should rescind her decision and allow the centers to be close to registrants," he stated.
In the Niger matter, where the Economic Community of West African States (ECOWAS) has served notice, it will commit troops from member states in the event that dialogue fails to restore democracy, the Goaso chief said Ghana should be excluded.
Nana Bosompra I pleaded with President Akufo-Addo not to yield to such an arrangement by the sub-regional body, predicting that if ECOWAS goes ahead with its position, Ghana will be used as a base and that will not augur well for Ghanaians.
He cited the negative impact the Niger coup has brought on Ghanaian onion buyers, who get their produce from Niger.
Source:Anchorghana.com