Parliament To Inaugurate Disability Caucus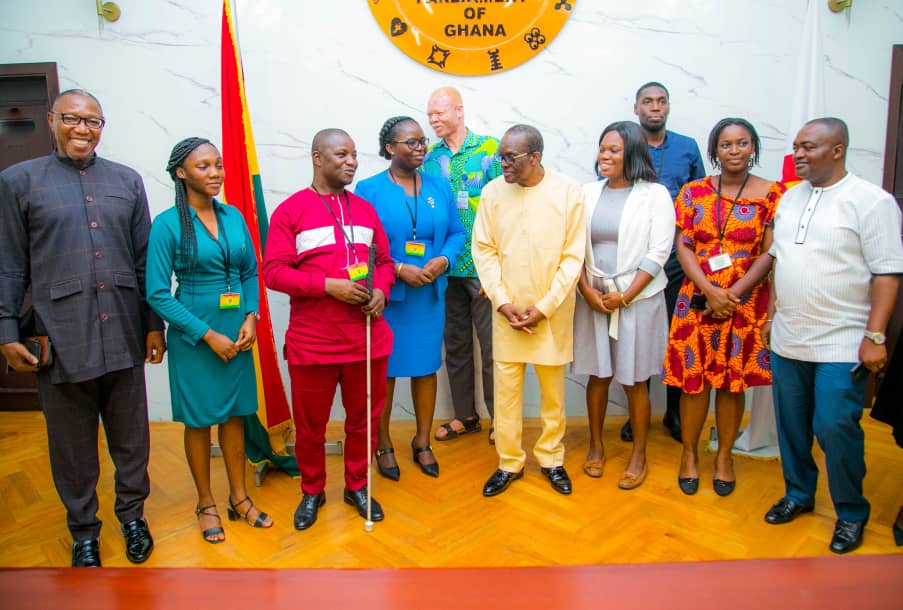 … Apaak, Darkoa Newman, Others To Serve As Leaders
The Speaker of Parliament, Mr. Alban Bagbin, has disclosed parliament is working around the clock to inaugurate the disability caucus by the end of this year, 2023, to enhance its advocacy in and out of the parliament.
Mr.Bagbin said parliament, as an institution, is committed to the cause of disability and inclusion in Ghana and, therefore, expressed the need to have physically-challenged persons as Members of Parliament.
"We are working on all these things to make our parliament inclusive; we will do our best to inaugurate the disability caucus by the end of the year," he said.
According to him, "We need to have a number of physically-challenged persons as Members of Parliament, it is one of the benchmarks for assessing parliaments in the world."
The Speaker of Parliament made the remark when selected members of the disability movement and the Ghana Federation of Disability Organisations (GFDs) paid a courtesy call on him.
The GFD is pushing for Parliament to have a formalized disability caucus that will support the disability movement in its advocacy and to help effectively monitor and contribute to the disability discussions on the floor of parliament.
Ms. Rita Kyeremaa Kusi, Executive Director of the GFD, who led the delegation, said there was the need for an enriched and enhanced conversation on disability issues at the parliamentary level.
She called on the Speaker of Parliament to help facilitate the re-enactment of the disability law to enable persons with disabilities to enjoy their rights in the country.
Ms.Kusi also mentioned that Ghana is yet to ratify the African Disability Protocol (ADP), a protocol that considers African practices and concerns in dealing with disability issues.
She said the process to sign and ratify the ADP started many years ago, but there had been challenges and called on the speaker for support in the process.
Interim leaders of the disability caucus of parliament were at the meeting to lend their support.
Dr. Emmanuel Marfo, Member of Parliament for Oforikrom Constituency; Dr. Clement Apaak, Member of Parliament for Builsa South, and Ms.Darkoa Newman, Member of Parliament for Okaikwei South, all pledged their unflinching support to the disability movement in the country.
They also added their voice to the call for the formalization and inauguration of the disability caucus in parliament to enable them to do more.
Source: Anchorghana.com