Mentally Challenged 'Dying To Heal'
…At Pentecostal Zion Church
By A. B. Kafui Kanyi
Scores of mentally deranged persons, males and females, are 'dying' slowly at the Pentecostal Zion Church, located on the Sokode-Akrofu Road, near Ho, in the Volta Region.
Some of these mentally ill persons, taken as deranged, are virtually being bestialized.
They are chained to huge logs under sheds behind a pavilion serving as a worshipping place for the church in a plantation/bush.
The big metal chains are around their ankles and wrists, making it impossible for them to move about freely.
As a result, some of the inmates sit on the bare floor without any underwear and defecate where they sit.
The roughly built hut (shed) exposes them to harsh weather conditions, with many sleeping on wet floors when it rains.
The plantation is waterlogged. Consequently, the place is always submerged, with floodwaters rising to the waist of the inmates.
Some have been in the shackles for close to a year, in solitary confinement.
Hunger
Sometimes, the inmates are made to fast between 21 and 40 days as part of their spiritual treatment plan.
The fast is also used periodically to weaken aggressive 'patients.'
At the end of the fast, they are given tea from lemongrass with little sugar without bread. Throughout their stay at the camp (between 6 and 12 months), the inmates are not allowed to take any medication.
All health conditions are handled with only prayer, with many looking very sick, virtually being 'stalked' by death, as their loved ones watch them with so much pain.
The lack of adequate food, freedom of movement and unsanitary conditions make the place hellish.
Ghana's 2012 Mental Health Act provides that people with psychosocial disabilities "shall not be subjected to torture, cruelty, forced labour and any other inhuman treatment," including shackling.
Apostle Michael Atiamu, the healer, said efforts were being made to get the inmates a decent accommodation and called for support.
He said the chains were to make them calm.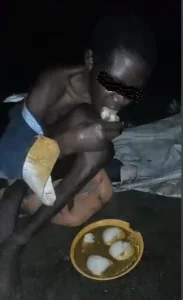 20 bags of cement
Families of the sick are required to pay with 20 bags of cement or the cash equivalent, when their relatives are healed, in support of the accommodation project.
Apostle Atiemu claimed he had healed close to 2,000 mental health patients from various parts of the country and from neighboring Republic of Togo and Nigeria since late 1970s.
Professor Akwasi Osei, a mental health expert, said the practice was against United Nations Human Rights provisions and Ghana's Constitution and must be stopped.
"The patients are not dogs to be chained. They must be immediately released and sent to Psychiatric hospital," he added.
"Even if they have spiritual issues, spirits use the body, so the body needs to be taken care of medically," a mental health practitioner, who sought anonymity, said.
Private member's bill
Mr. Francis Xavier-Sosu, a human rights activist and Member of Parliament for Madina, said the practice violated international human rights conventions and Article 12(1) of the 1992 Constitution and the dignity of the mentally challenged.
He said such people ought to be protected by the Mental Health Authority (MHA) and hopeful Parliament would pass a private member's bill aimed at putting mental health issues under the National Health Insurance Scheme.
"I have introduced this bill because many people go to the prayer camps because they can't afford hospital bills. I hope Parliament will expedite action on it to save our brothers and sisters," he added.
When the Mental Health Authority (MHA) was contacted, it said it could not comment on the issue and asked the GNA to report the case to the police.
The mandate of the Authority is to integrate and expand access to quality mental health services, including substance-related disorders, with focus on community level services, identifying risk for, and protective factors against, and developing and managing mental illness and support.(GNA)
Source: Anchorghana.com