Ghana Needs Senchi-like Economic Forum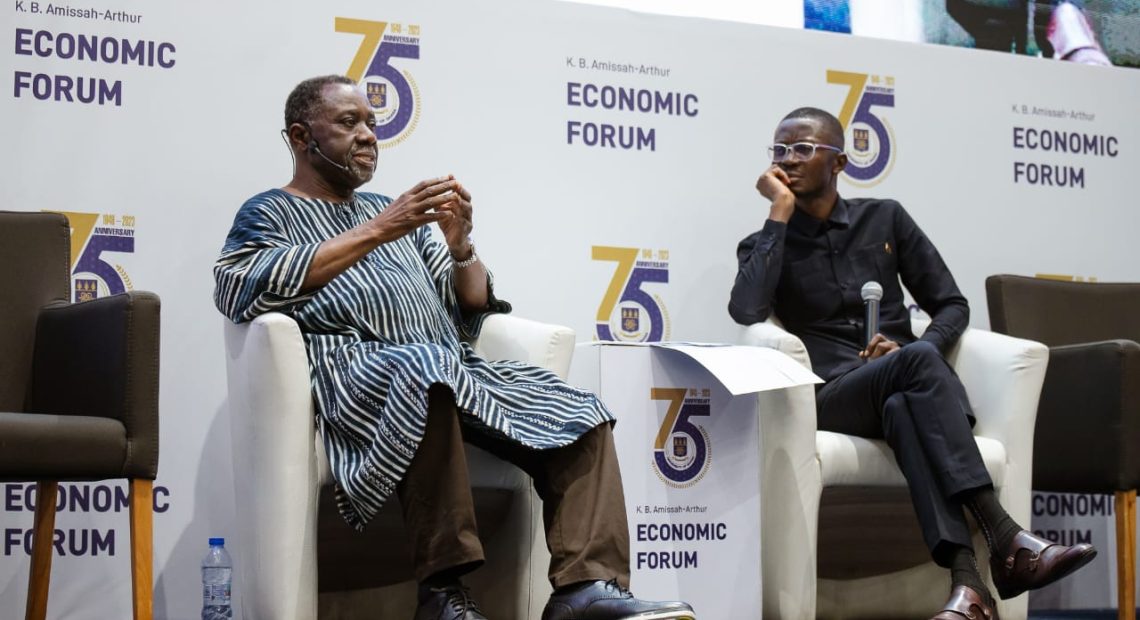 – Ex-World Bank Chief Advocates At 2ndAmissah-Arthur Lecture
Former World Bank and United Nations (UN) chief, Dr. Kingsley Yeboah Amoako, is advocating an all-inclusive national consensus, broader than the famous "Senchi Economic Forum" in the next 25 years to allow a long-term economic recovery.
Dr. Yeboah Amoako, who is also the founder and president of the Africa Centre for Economic Transformation (ACET), said that, factors such as high inflation and fiscal deficits, which forced the Mahama administration in 2015, to initiate the Senchi forum, are prevalent today, if not worse.
The author of 'Know the Beginning Well' is convinced, a far-reaching forum in a form of a compact, involving various stakeholders, including the youth and civic associations, will aid in the transformation of Ghana, which has been frequenting the International Monetary Fund (IMF) for bailouts, to change the status quo.
"Another consensus is needed, but, this time, it needs to be a true national consensus—broader, with more stakeholder input and buy-in, especially among the youth, women and civic associations." Improve competitiveness in global markets, use productivity, especially labour products, Agric technology across industries, and improve human well-being," he has said.
The experienced and respected global thought leader, advanced this argument when he delivered the keynote address at the second edition of the Kwesi Bekoe Amissah-Arthur Economic Forum, held at the University of Ghana, Legon on Friday, June 30, 2023.
The event, moderated by Citi FM's Bernard Avle, also had the Chief of Communications and Public Information of the United Nations Mission in South Sudan, Ben Dotsei Malor, in attendance.
Making a case in the presence of very influential citizens, intellectuals and policy makers, including former President John Dramani Mahama, Dr. Amoako decried the unending crises of the Ghanaian economy, recalling the last forum in 2015, in which he featured prominently.
Speaking under the theme "Economic policy making in Ghana: lessons learnt and the way forward," Dr. Amoako said even though the intention behind the Senchi Forum and intellectual minds that birthed it were great, it could not be fully implemented because it appeared one-sided as some influential persons, including the political class, stayed out.
He said the controversial forum was left for only a privileged few.
"One of my most vivid memories of Paa Kwesi was when we worked together at Senchi, almost ten years ago, for such a crucial event.
"At that time, Ghana was facing several serious economic challenges. Fiscal deficits were high. Rising public debt, energy subsidies and a high public sector wage bill were threatening macroeconomic stability.
"Inflation and interest rates had jumped into double digits.
"Together with Paa Kwesi and other political and development elites in Senchi, we spent three days on substantive discussions about what the future of our country should be. We came out of Senchi with a consensus, but only among a privileged few, without enough buy-in from all political parties. So the conversations and the agreements we made ended up as a footnote in history rather than a long-term strategy. The situation we face today may be even worse," he said.
He said even though the economy, in the past, has grown to an appreciable level, but that alone is not enough.
He identified that despite Ghana recording this economic growth in the last decade, it has not been able to build on it because of lack of commitment and inconsistences in policy implementation.
""Between 2000 and 2020, Ghana experienced 13 years of rapid growth, including six years of very rapid growth. But growth alone is not enough to sustain long-term development. Countries must transform their economies. Despite that strong growth rate, Ghana's economy has suffered from falling productivity in the manufacturing sector and high vulnerability to global markets and commodity price shocks. Its development has been marred by debt and energy crises, large trade and fiscal imbalances, and a lack of consistent long-term planning," he said.
Dr. Amoako, whose career spans over five decades contributing with passion and energy to Africa's ongoing development, diagnosed that, for the economy to withstand any shock, be it internal or global, it needs to be transformed and resilient.
He called for a true national consensus-building in a form of compact for a permanent economic recovery.
Dr Amoako, who is leading a team of concerned Ghanaian groups and individuals to form this compact for Ghana's political and economic transformation, said it is not that Ghana does not know the way forward, because others on the continent, like South Africa and Mauritius, have done it, but it is because of lack of consistency, consensus and so there should be practical solutions. He said there should be no shortcuts to this permanent economic recovery.
"Today, I am able speak in more certain terms—specifically, about a new initiative that I and many other concerned citizens are spearheading.
"It is called the Compact for Ghana's Political and Economic Transformation. And through it, we are working right now to build the true national consensus that is so urgently needed. The Ghana Compact aims to frame the future we want for Ghana by 2050. It is a platform for setting a shared vision for our nation that will tackle our greatest challenges.
"It is intended to put Ghana on a more secure path forward by bringing a better balance to our democratic process and more voices into our policy discussions. Our core belief with the Compact is this: for Ghana to truly deliver on its ambitions and achieve its greatest potential, we need to build a social contract between our citizens and our government— no matter who is in charge—to set a long-term vision for economic transformation that delivers dividends for our people," he said.
He added, "We all know the issues. Every time government changes, our policies and programs change. Our constitution was written too long ago to work for today's challenges. Women still face barriers to equal rights and equal participation. Our businesses are not as competitive as they could be. Our youth need the skills, training and opportunities to succeed. And of course, our fiscal health is weak.
Those next 25 years are absolutely critical to Ghana's ability to secure its future," he said.
Underscoring the importance of visionary leaders, Dr. Amoako said such leaders are critical for every nation, especially the poor countries.
The Kwesi Bekoe Amissah-Arthur Economic Forum was instituted to celebrate the achievements of the late vice president, who died some five years ago.
Focusing his attention on the "2050 Ghana We Want Compact," an Associate Professor at the Department of Economics at the University of Ghana, Professor Ebo Turkson, called for massive investments in infrastructure to motivate the private sector
"The transformation will come with investments and that is what we need our governments to commit themselves to. We have not seen that critical investment and that cannot be done by just one government. We need a continuous focus on building the infrastructure we need to develop our economy and if our governments……two parties commit to a compact for instance it is supposed to guide them to be answerable to us," he said.
The programme was chaired by the vice chancellor of the University of Ghana, Prof. Nana Ama Appiah Anfo, who, in her remarks, urged policy makers to create the enabling environment for entrepreneurship and foster a culture of research and development as" in the work of his Excellency K. B.Amissah-Arthur."
She added, "Additionally, we must strengthen our educational systems to enhance accountably, transparency, building trust and confidence among investors, facilitating public-private partnerships and attracting foreign direct investments by enhancing government framework and combating corruption, We can create and a conducive environment for a sustainable economic growth."
As part of the celebration and to immortalize the memory of the former vice president, the family has instituted an annual award at the Department of Economics. Two students, Deborah Annang and Josephine Baako Amponsah, studying for MPhil and PhD, were awarded GHc2,000 and GHc4,000 respectively to assist them in their education.
Aside from President Mahama, other attendees included the 2020 vice presidential candidate of the NDC, Prof. Jane Naana Opoku Agyeman, former ministers of state, National Democratic Congress (NDC) bigwigs, former vice chancellors of the University of Ghana, the Amissah-Arthur family, lecturers and students.
Source:Anchorghana.com