Tarkwa MP Meets Wassa Fiase Students
The Member of Parliament (MP) for Tarkwa-Nsuaem in the Western Region, George Mireku Duker, has paid a surprise visit to the University of Ghana chapter of the recently inaugurated Wassa Fiase Students Union(WaFSU) to interact with, as well as encourage, the group.
The MP, who is the patron of the association, made the visit on June 16, 2023 during the union's maiden General Meeting on campus to fraternize with the members.
The group, which was recently inaugurated by the MP, has a vision to bring together all tertiary students from the Wassa Fiase land under one umbrella, with an objective to connect members to opportunities beneficial to their academic and future progress, such as internship, national service and job opportunities.
In a post sighted by The Anchor, Mr. Duker, who doubles as a deputy minister of Lands and Natural Resources responsible for mining, said,"I joined Wassa Fiase Students' Union, University of Ghana branch, for their First General Meeting to fraternize myself with the members."
According to him, "I used the opportunity to urge the students to focus on their studies and build on their capacities in picking up leadership roles in their respective jurisdictions. Building a united front to lobby for opportunities from major companies within the traditional area."
He assured that, "together, with other stakeholders from the Wassa Fiase Land, we will always support and seek the welfare of the Union. I have pledged my support to the Union and encourage all interest groups to come on board to make Wassa Fiase a better place."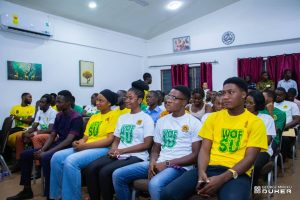 The national executives of the union were inducted into office on Saturday, June 3, 2023, at a ceremony in Tarkwa, where they were tasked to champion developmental programs in the educational sector for the area.
They were also tasked to provide assistance to students who are facing financial difficulties in their academic and non-academic work, among others, within the Tarkwa-Nsuaem enclave and across the country.
At the moment, the Wassa Fiase Students Union has chapters in six universities nationwide; namely, University of Ghana (Legon), University of Mines and Technology (UMaT), Takoradi Technical University (TTU), University of Energy and Natural Resources (UNER), University of Cape Coast (UCC) and Kwame Nkrumah University of Science and Technology (KNUST).
Source: Anchorghana.com