Cocobod Alerts Cocoa Farmers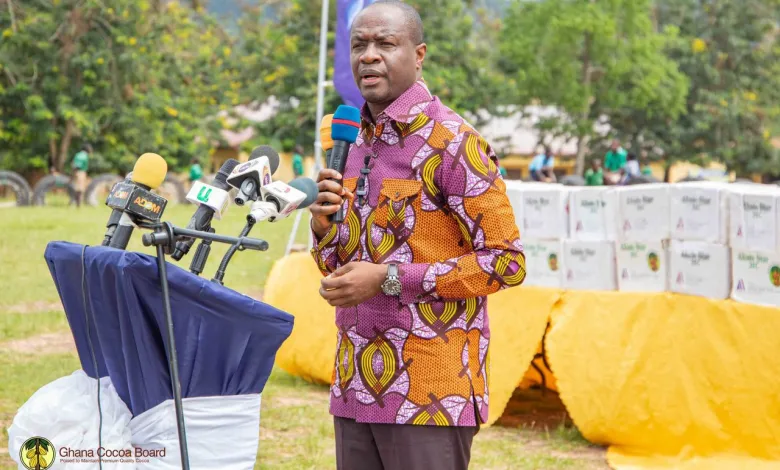 …Says 'Galamsey robs you of your future pensions'
The head of the Public Affairs Department at the Ghana Cocoa Marketing Board (COCOBOD), Stephen Fiifi Boafo, has reiterated the devastating socio-economic consequences that illegal mining (galamsey) is having on the future livelihoods of cocoa farmers in the country.
Mr. Boafo said illegal miners are robbing farmers of their lifetime earnings, as well as legacies that they could bequeath to their generations.
He lamented that, though perpetrators of illegal mining activities make juicy promises to cocoa farmers, and lure them to give away their cocoa farms, the innocent farmers have ended up being in an impoverished situation, with nothing to depend on upon retirement.
The head of COCOBOD Public Affairs therefore appealed to cocoa farmers to resist any attempt by illegal miners to convince them to sell off their lands, something which eventually deprives them of their lifetime investments.
Mr. Boafo made the observation while addressing a ceremony organised by the management of Goldfields Ghana Limited at Damang to hand over agro-inputs to some beneficiary cocoa farmers in their catchment communities.
He reminded farmers about the several measures the government, in collaboration with Ghana Cocoa Board and the National Pension Regulatory Authority (NPRA), is implementing to better the lives of cocoa farmers, especially in retirement.
"The introduction of the Cocoa Farmers Pension Scheme is meant to secure your future and provide you with a decent means of livelihood when you retire. As with other pension schemes, your monthly earnings will depend on your contributions which means that if you sell off your cocoa farms for mining activities, you are denying yourself and future generations the opportunity to earn decent livelihoods," he pointed out.
He noted that, apart from the introduction of the Pension Scheme, COCOBOD is also implementing several interventions, such as cocoa mass spraying, cocoa rehabilitation, pruning, hand pollination and highly subsidized fertilisers, to support farmers.
These, according to him, come at a huge cost to the government, hence the need to safeguard the future of the cocoa industry by eradicating illegal mining.
Mr. Boafo therefore expressed joy at the gesture extended to cocoa farmers by Goldfields Ghana Limited under their Cocoa Farmers Foundation Support Programme, adding that it is worth emulating by other mining companies.
He noted that over the years both mining and cocoa production had co-existed peacefully until the upsurge of activities of illegal mining.
Mr. Boafo was of the view that the example of Goldfields Ghana Limited is an attestation that responsible mining can go a long way to help improve our ecosystem and support other environmental activities, including farming.
"Let me take this opportunity to commend the management of Goldfields Ghana Limited for this kind gesture to our cocoa farmers. It is my hope that our beneficiary farmers will respond same by meticulously applying these inputs on their farms in order to obtain yields."
In all, about 240 beneficiary farmers received agro inputs under the Gold Fields Cocoa Farmers Foundation Support Programme.
Source: Anchorghana.com