Nigeria's Hilda Baci confirmed by Guinness World Records for longest cook-a-thon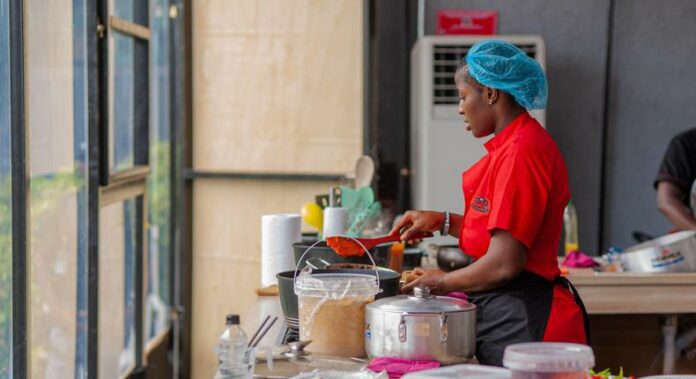 The Guinness World Records has confirmed Hilda Effiong Bassey, also known as Hilda Baci, as officially breaking the record for the longest cooking marathon (individual), with a time of 93 hours 11 minutes.
This followed a thorough review of all the evidence.
The previous record of 87 hours 45 minutes was set by Lata Tondon (India) in 2019.
Hilda Baci began her cooking expedition on Thursday, May 11 and continued through to Monday, May 15, cooking over 100 pots of food during the four-day kitchen stint.
The 26-year-old Nigerian chef attempted to set a record of 100 hours, however, almost seven hours were deducted from her final total because she mistakenly took extra minutes for one of her rest breaks early on in the attempt.
She was required to abide by several rules during her record-breaking cook-a-thon:
There must be at least two items being prepared or cooked at any time
A sous-chef is permitted to assist in prep work, washing up, and cleaning the kitchen area, but all the cooking must be done by the individual attempting the record
"One of the most important rules of our food-related record attempts is that all items must be consumed after cooking," said GWR.
Hilda had invited any and all members of the Nigerian public to come and eat her freshly made meals. All leftover food was donated to the Festus Fajemilo Foundation.
As with all 'longest marathon' records, the participant is permitted a five-minute rest break for every continuous hour of activity. These rest breaks can be accumulated if not taken.
They were the only times Hilda could use the bathroom or sleep during the attempt.
She had told her fans that the attempted record was to "put Nigerian cuisine on the map" and "to inspire young African women to chase their dreams."
"I also decided to break this record to truly push my limits and test my abilities," she added.
Hilda prepared for the event by creating a 35-item menu "as a guide" for every meal that she would cook.
She ensured that she had the necessary ingredients to make each recipe, with her team procuring further food items while the cook-a-thon was underway "based on what was needed to be topped up."
Several high-profile Nigerian figures such as then Vice President of Nigeria, Professor Yemi Osinbajo, then Governor of Lagos State Babajide Olusola Sanwo-Olu and award-winning singer Tiwa Savage, visited her to support her during her record attempt.
Profile
After graduating from Madonna University, Nigeria, with a degree in Sociology, Hilda decided to embark on her culinary career.
She was inspired by her mother, Lynda Ndukwe, who is also a chef.
Hilda went from success to success, hosting television show Dine on a Budget in 2020, before winning the Jollof Face-off competition in 2021.
Representing her native Nigeria, Hilda beat Ghana's Leslie Kumordzie to claim the victory.
Source: 3news