My People Are Angry, Don't Take Us for Granted,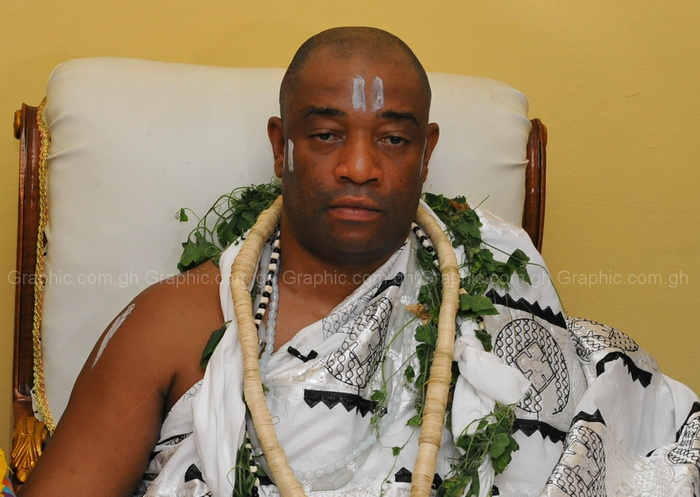 The Ga Mantse, King TackieTeiko Tsuru II, has warned politicians to desist from taking the people of the Ga state for granted in the manner they have been treated for years.
He stated that his subjects are unhappy because they have been mistreated and sidelined at the helm of affairs for too long on their own land, particularly in the national capital.
Sounding very furious, the visibly angry traditional leader said, "Ga Dangbe is sad, sad because of a lot of things that are being done against us. That is why I am speaking in English today and I want you to hear we are sad!
"We are sad about the way we are being treated in the capital. People just get up, go to a place like Agbogbloshie and start building, why? Without even consulting a traditional authority."
King Tackie Teiko Tsuru II made these remarks when the New Patriotic Party (NPP) flagbearer-hopeful, Mr. Alan Kyerematen,paid a courtesy call to his palace yesterday, Monday, March 13, 2023.
In his view, the people of Ga-Dangme have the ability to decide the outcome of the 2024 general elections, thus they should be recognised as key stakeholders in the affairs of the country.
"We will decide this election in 2024 because Accra is the pivot of the election. Accra is Ghana and Ghana is Accra, don't take us for granted," he pointed out.
Gas Will Feature In My Gov't
On his part, Mr.Kyerematen assured thatthe Gas will feature prominently in his government if he is elected president of Ghana in future.
According to him, the Ga state is important because it is the entry point into the country, and he appealed to the Ga chiefto convince his subjects within the NPP to vote for him as the party's next flagbearer.
"If it is God's will that I lead this party and I become President, I'll make sure that Gas feature very prominently in the government that I will run and I do so also for very strategic reasons because Greater Accra is the capital of our country and it is the entry point into our country and first impressions are important and, so, it is our own interest as a government to lift up the Ga state," Mr.Kyerematen stated.
He noted that "even without becoming the flagbearer of our party, I put up a bold plan for the bold transformation of our country and I hope that even though you're not supposed to do politics, you can talk silently to the delegates of our party to think beyond our party."
"Breaking the eight will be a historical feat because this will be the first time that we will go beyond eight years of our political cycle, but it is important that we break the eight, but we can only break the eight with somebody who has a proven record to deal with the two challenges [youth unemployment and maintaining strong resilient economy] that I have already alluded to."
"So, I want you to speak silently to those of your subjects who will be voting as delegates in our party and I also want you to be able to make a case not only to stand as leader of our party, but also to move onto the presidency of the nation. I want the Ga state to stand solidly behind me," Mr.Kyerematen added.
The former Minister of Trade and Industry further said he is the best man to transform the country, as he has bagged a lot of experience in politics.
"The two most important challenges that confront us as a nation currently are maintaining a strong resilient economy, and secondly, creating job opportunities particularly for our youth. These two challenges cannot be dealt with significantly without transforming our country. Since independent, we've been to the IMF 17 or 18 times and we are currently working towards receiving a package from the IMF.
"We've to reverse this trend and the only way is to have a transformational leader who can move the country's growth to transformation and in all humility and modesty, I believe that I offer that opportunities to move this country forward to transformation," he stated.
Source: Anchorghana