Ahwois Pick Running Mate For Mahama
Even before former President John Dramani Mahama launches his campaign to lead the National Democratic Congress (NDC) in the 2024 general elections, a vice presidential candidate is subtly being imposed on him.
A very powerful bloc within the opposition party is demanding that Mr. Mahama repeats his 2020 Veep candidate, Prof. Jane Naana Opoku-Agyemang, for the next election, even though the party is yet to elect its flagbearer.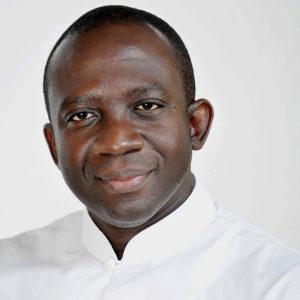 According to the senior member of the family and a former Ambassador to South Africa under Mr. Mahama, the former Education Minister is best bet for the slot, despite the age argument being pushed from certain quarters.
Kwesi Ahwoi insists Prof. Opoku-Agyemang has earned the vice president position and can become the next and first female president.
Speaking in a recent interview with Starr Newscorrespondent on the sidelines of an event at the Koforidua Technical University on Friday, February 25, 2023, Kwesi Ahwoi said even though former President Mahama has the prerogative right to appoint any running mate of his choice, it will not be out of place for him to choose the first female Vice Chancellor of the University of Cape Coast (UCC).
"I have made a lot of statements. I have made a statement that I will do everything to make sure President John Mahama comes back to be President of this country and, of course, he has to decide who will be his running mate. I don't see anything wrong at all and nothing that stops Prof. Jane Naana Opoku Agyemang from being the running mate,"Ambassador Kwesi Ahwoi stated.
This is notwithstanding the fact that names of some bigwigs, like former Managing Director (MD) of the Ghana National Petroleum Corporation (GNPC); Alex Kofi Mensah Mould, who was seen sometime ago trekking in some hinterlands just to market himself, as well as former boss of Tema Oil Refinery and Bulk Oil Storage Transport (BOST), Kingsley Kwame Awuah-Darko, have been nursing the ambition to partner Mr. Mahama.
Recall how Mr.Mould went into some cocoa areas in the Ashanti Region looking for a constituency to belong to, while grinding pepper for early morning fufu to feel accepted.
At various quarters, their names have come up in discussions, but if the maneuverings of the Ahwoi family is anything to go by, then those eyeing the running mate spot for 2024 will have to wait a little longer, as strong indications are that the Ahwoifamily may have their way with their choice of candidate.
Unless a political neophyte, it is a common knowledge for many the level of influence and power the Ahwoi family wields in the NDC, considering the roles they played in the erstwhile Jerry Rawlings era through to late Prof. John Evans Atta Mills' administrations.
They are political godfathers of many young politicians and speak in unison and toe one line when it comes to critical choices in politics and the party.
Member of Parliament (MP) for the North Tongu constituency, Samuel OkudzetoAblakwa, has not failed to say publicly that he is one of such politicians who has enjoyed so much influence from the family.
Age Factor
Argument has been advanced for the NDC to choose a running mate to Mr. Mahama, who is fairly young, so that after the former President completes his second term, his vice president can succeed him.
For this, many have argued against the former Education Minister because of age and the fact that she is a woman.
But reacting to these views, the former Interior Minister rubbished these views, saying, at 71, Prof. Opoku-Agyemang can be a vice president for four years and become president and perform creditably.
He said the fact that today's oldies in power are not doing well does not mean the professor of literature cannot be different. He rhetorically asked if the former Vice Chancellor is being looked at differently.
"People are talking about age and all. Age is not a concern. Age is being made a concern because we have a leadership today that is making age to look like we have lost track.But, if I tell you my age standing here, you will be amazed but I have not lost track.
"So Naana, whether she is 78, 79, 80 can still be President of this country when President John Mahama finishes his service, that should not be a worry at all," he reiterated.
"Senior Kwabena Duffuor is putting in his cap. Kwabena Duffuor should be getting close to 79, what does he got to do with that, he got his brains, he got everything that he can use to lead this country. So I don't see anything wrong with that (old age), is it because Naana is a woman?" he quizzed.
He said it is time women were given opportunity to govern, given the chance to show what they can also do, considering the fact that their men counterparts have been allowed to steer affairs all these years.
"It is about time we put a woman in charge of this country. They have a lot to offer this country. We have tried men, we've seen where men have taken us. Let's try the women."
The NDC has for many years selected its running mate from the Central Region. The likes of late KowNkensenAckaah, to late Professor Mills to late Paa Kwasi BekoeAmissah-Arthur have all come from the Central Region.
Yet the party has not enjoyed much votes from the region as data has shown that the region is a swing one.
Asked whether or not Prof. Jane Naana Opoku Agyemang will be able to attract more votes for the NDC, Kwesi Ahwoi said the region is an amorphous region where different groups are found.
He said the seeming poor performance of the party in 2020 should not be the deciding factor.
"It is the party that brings numbers; it is not really the individual….if the party is strong the candidate is only a reflection of the party.But specifically, she also has her constituency, she can pull resources, she can pull people.Most people are not calculating things well they think we lost in Central Region.
"We lost the presidential election in Central Region because of that people forget that Central Region is an amorphous region.It is not only Fantes. Central Region is a combination of Ashantes, Akyems, Denkyiras, just name it, so don't look at Fante and say because Naana is a Fante he should bring Central Region, no! We have to go beyond that," he contended.
Even though the former university don is yet to publicly express the desire to partner Mr. Mahama, she has not rested since the NDC lost the last election. She has attended most programmes of the party and attended programmes on behalf of the former president.
More To Come…
Source: Anchorghana