Small-Scale Mining Shoots Up Gold Export By 30%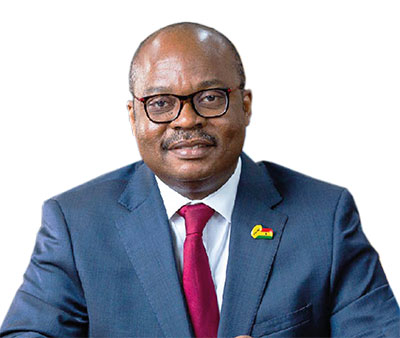 The Governor of the Bank of Ghana (BoG) has disclosed that Ghana's gold export has significantly increased by 30 percent, because of increased volumes from small scale mining in the country.
Addressing a press conference during the 110th Monetary Policy Committee (MPC) in Accra on Monday, January 30, Dr. Ernest Addison said, "Gold export increased by 30 percent to 6.6billion US dollars on the back of increased volumes from small-scale gold production."
The increment is also attributed to successful implementation of government's Community Mining Scheme (CMS) initiative, which is contributing a lot to the small-scale industry and gold export.
Interestingly, the governor of the central bank said cocoa exports has declined to US$2.2billion, from US$2.8billion.This, he said, reflected both prices and volumes of production.
"Cocoa exports however declined to $2.2billion, from $2.8billion, reflecting both prices and volumes of production.
"Other exports, including nontraditional exports, reached 3.2billion US dollars, an increase of 10.2 percent. The total import bill increased by 7 percent to 14.65billion US dollars in 2022 due to higher payments for oil and gas imports."
He added, "Of the total import bill, oil and gas, mainly refined petroleum imports, amounted to 4.7billion US dollars driven by higher prices compared to 2.7billion US dollars in 2021 representing 71.3 percent annual growth."
Meanwhile, Dr. Addison also announced that the bank has increased its policy rate – the rate at which it lends to commercial banks – by 100 basis points to 28 percent.
This is up from the earlier rate of 27%.Within a year, the rate has gone up by a staggering 13.5%.
The central bank cited downside risks to inflation and exchange rate depreciation as the major reason. These risks have been driven by fiscal imbalances.
"In the interim, the MPC [Monetary Policy Committee] sees the need to remain vigilant and moderate liquidity in the system to underpin macroeconomic adjustments taking place to drive inflation on adownward path. Under the circumstances, the Committee decided to increase the policy rate by 100 basis points to 28%," the MPC, chaired by the Governor of the Bank of Ghana, Dr. Ernest Addison, revealed.
The Governor also said underlying inflationary pressures similarly remained elevated as the bank's coreinflation measure, which excludes energy and utility, accelerated to 53.2% in December 2022, from 49.7% in November.
"However, the bank's surveys on consumers, businesses and the financial sector showed that inflation expectations eased in December 2022. This indicates agents' expectations of moderation in inflationary pressures on the horizon," he mentioned.
The upward adjustment in the policy rate means cost of loans will go up further, and will consequently worsen the cost of doing business in the country.
Already, average lending rates have shot up significantly to 35.58% in December 2022, from 33.87% recorded in November 2022.
This is equivalent to 2.82% interest rate on loans per month.
According to the January 2023 Summary of Economic and Financial Data, average lending rates have been increasing sharply since a year ago.In actual fact, it has gone up by 15.42% since January 2022.
Source: Anchorghana