Volta NDC To Reward Hardwork…James Gunu Set For Massive Endorsement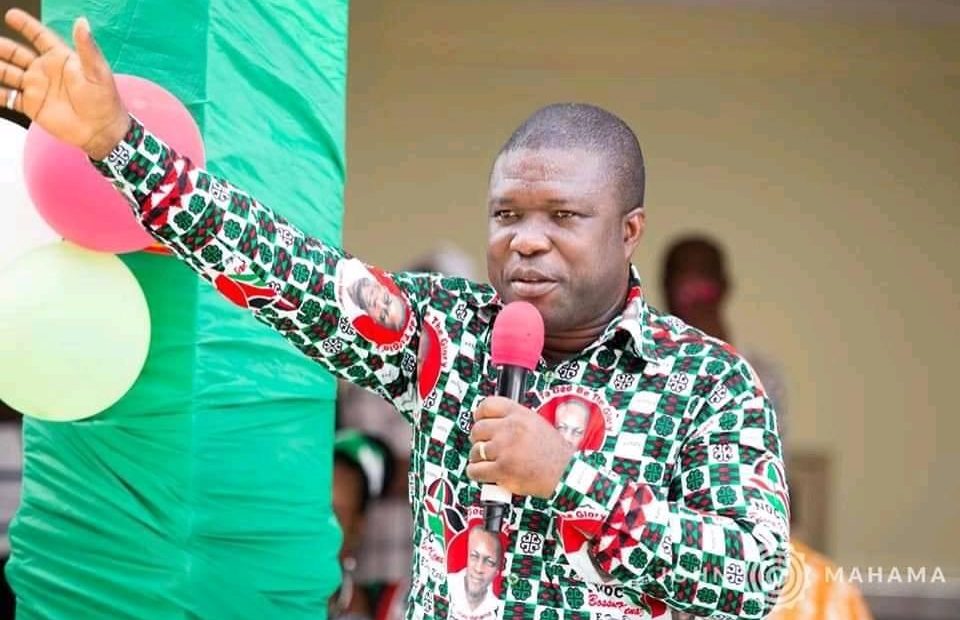 Delegates of the opposition National Democratic Congress (NDC) in the Volta Region are set to reward hard-work by voting selfless leaders as regional executives of the party for the next four years, as they head to the polls tomorrow.
For many, it is time to choose honest and humble leaders who will not betray the cause of the party for personal or business gains, but who would champion the interest of the grassroots and rally the rank and file to secure victory for the party in the 2024 general elections.
Of the aspirants vying for the various positions, one individual whose candidature is getting massive support and goodwill from the delegates and, thus, likely to retain his position due to his hard-work is the incumbent Regional Secretary, James Gunu.
Mr. Gunu, a former District Chief Executive (DCE) for Akatsi North, is described by many as "very affable" and a true grassroots politician who relates with everyone, both old and young, regardless of one's status within and outside political spheres.
The Anchor gathered that, since his election as Regional Secretary in 2018, he has maintained a cordial relation with the rank and file that made him easily accessible and visible at almost every event during his first four-year term in office.
From official party events to attending funerals of comrades, marriage and naming ceremonies, demonstrations and social events, among others, he was conspicuous, in an exceptional way, just to make the presence of the party to be felt on the ground.
Though the regional chief scribe is facing opposition from two others, namely Mr. Gladstone Stanley and Mr. Albert Laurent Sakabutu, for the Secretary slot, his versatile leadership style, coupled with his personal relationship, puts him ahead, with some constituents in the region already calling for his re-election.
The onetime president of the Tertiary Education Institutions Network (TEIN) at the then Takoradi Polytechnic is said to have worked selflessly and peacefully with other regional executives during his four-year tenure at the Regional Secretariat, without having any issue with anyone.
Many believe his re-election for a second term is non-negotiable for a man they revere and hold in high esteem for his contributions to the party, considering the manner he conducted and endeared himself to the rank and file.
He is said to be a strong ally of the party's founder, Flt-Lt. Jerry John Rawlings, whom he takes as one of his political godfathers and mentors. Interestingly, the day of the regional election, November 12, coincides exactly two years with the date the former President died.
Mr. Gunu, who is the number three on the ballot paper, believes his spot is a sign of victory and represents the three arms of Government – Executive, Legislature and Judiciary.
He told The Anchor in a brief interview that, "a vote for James Gunu is a vote for placing party interest above individuals' interest."
Policies
According to him, "A vote for Hon. James Gunu is a vote for a decentralised socio-political administration that motivates, rewards hard-work and empowers the constituencies and branches in particular and the grassroots in general for the desired political results."
He said, "A vote for Hon. James Gunu is a vote for a research/data based strategic campaign that brings the desired results come 2024 and beyond, a vote for pursuing a sustainable development agenda/goal for the Volta Region in the next NDC administration and a vote for rendering efficient and robust full-time political administration with honesty and humility."
"A vote for Hon. James Gunu is a vote for maintaining party visibility across the region to bridge the gap between party leadership and the grassroots, a vote for more rigorous membership drive that brings desired outcome in an election and a vote for regular stakeholder engagement going into the 2024 general elections and beyond."
On enhancing the base of the party, he said "a vote for Hon. James Gunu is a vote for enhancing the branch adoption strategy of the party to include resource mobilization, agents' recruitment and training and ballot protection, is a vote for placing party interest above individual's interest and a vote for building partnership for party growth."
"A vote for Hon. James Gunu is a vote for orientation/training of party executives to prevent role conflicts and guarantee party unity and cohesion, proposing to NEC, the amalgamation of party membership dues payment and welfare schemes with a clear sharing formula to make dues payment attractive and beneficial to party members."
He assured that he will "propose to NEC for NDC/TEIN representation on Constituency Executive Committees (CECs), Regional Executive Committees (RECs) and National Executive Committee (NEC) to bridge the gap between the party and the TEIN."
Other Aspirants
Meanwhile, four other candidates are challenging the current chairman, Henry Ametefee, for the chairmanship slot, including a former vice chairman, Lawyer George Loh, as well as Mr. Marshal Emil Ackumey, Mr. Francis Doe and Mr. Mawutor Agbavitor.
Five aspirants, including a female, are in the race for the vice chairmanship slot of the party.
They are Manfred Nuku-Dei, Tumaku John, Madam Bridget Simpi Yaa Yvette, Egypt Kwabla Kudoto and Devine Fiakpui Dzahini.
The deputy regional secretary position is being contested by Ege Bright Kwashie, Stephen Adom, Emmanuel C.K. Todzoh and Stanley Nelvis Glate, while Daniel Agboka Dzegede Okudzeto Simmons and Alfred Brown Kumah have also been cleared to contest for the Regional Treasurer position.
For the Deputy Treasurer, Abdul Hakeem Balogun, Wonder Nditsi, Madam Evelyn Gaglozu and Madam Eleizabeth Edem Tsekpodoe are racing for the title, and Siki Abibu, the incumbent Regional Organizer, is facing off with Chester Ben Ati for the post.
Mr. Abraham Kwame Ahiable, Mr. Folikumah S. Charles, Mr. Elliot Wogbe and Mr. Akpah Divine Worlanyo are contesting the Deputy Regional Organizer.
For the Youth Organizer position, Mr. Mathias Kwame Alagbo, Mr. Angelo Norkplim Agbodzie and Mr. Dziewornu Boli have been cleared to contest.
Mr. Kwame Asiemoah Junior, Mr. Alex Doe Wuadi, Mr. Johnson K. Samlafo and Alex Biney are jockeying for the Deputy Regional Youth Organizer position.
The Communication Officer slot is between Mr. Agbleze Kafui and Benedictus Amedume.
Mr. Bright Delali Kugbeadzor, Edwin Kwame Amemasor and Tagbor Sampson Nukunu are contesting for the Deputy Communication Officer position.
The Zongo Caucus position is being contested for by Mr. Iddrisu Mubarak, Alhaji Bello Misbaw and Hajia Hawa Tahiru.
Madam Delphia Fafa Agbai and Madam Akusika M. Kpene are both in the Women Organizer race, and Deputy Women Organizer position is contested by Madam Marian Akua J. Adzroe, Madam Ann Awo Galley, Madam Cynthia Afeafa Woayor and Madam Fafali Nyonator.
Source: Anchorghana.com