Asantehene, Togbi Sri Rekindle Anlos And Ashantis Bond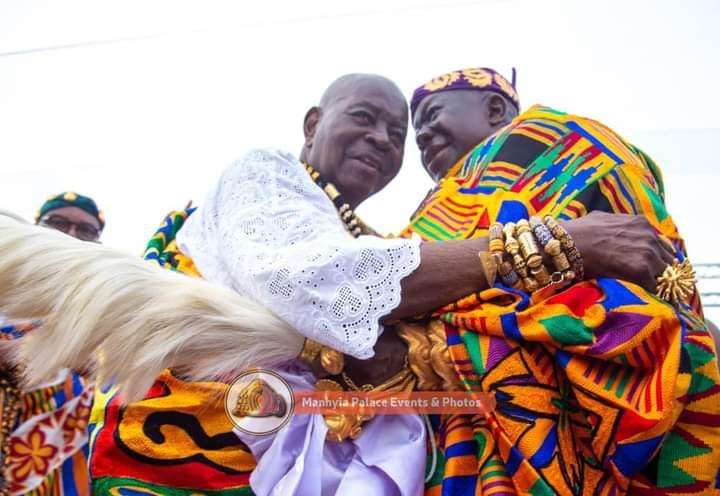 The historic visit by the Asantehene, Otumfuo Osei Tutu II to the Anlo State in the Volta Region to mark the 60th anniversary of the Hogbetsotso on the invite of the AwoamefiaTogbi Sri III has rekindled the lost friendship between the two ethnic groups.
Though many were doubtful about the Asantehene's presence, his visittogether with a retinue from the Manhyia Palace is considered as a significant move that will strengthen the brotherliness among the Anlos and Ashantis.
Indeed, it was a sight to beholdas many dignitaries including, King TackieTelkoTsurull, Ga Mantse, DasebreAkuamoah Agyapong ll, the Kwawuhene and many more chiefs from near and far participated in this year's event.
It was considered as one of the well-organized and successful celebration for some years now.
This year's celebration, which is on the theme "60 Years of AnloHogbetsotso Za: Uniting for development, sustaining our unique cultural commonwealth for future generations" saw hundreds of chiefs, elders, citizens from Anlo land, and people from across the world in the attendant.
The annual 'Hogbetsotso Festival by the 36 States of the Anlo State was characterized by display of arts, tradition, and culture.
As of 0800 hours on Saturday, November 5, there were heavy presence of traditionalists, cultural troupes, other groups, and religious bodies at the durbar ground to participate in activities to climax the week-long activities of this year's festival, after a two-year break due to Covid 19.
There is a heavy security presence amid cultural displays and performances as well as firing of musketry.
The first Saturday of November each year is a remarkable day for the people of Anlo in the Volta Region as they celebrate the Hogbetsotso festival.
It is to commemorate the escape from Notsie in Togo to their present destination between the fourteenth and the fifteenth century.
The festival's name is derived from the Ewe language and translates as "the festival of exodus" or "coming from Hogbe (Notsie)".
Post-colonisation, the Anlo state, led by its chief, performs customary and ritual rites to mark the occasion.  And this year, 2022, is no different.
The Awɔmefia of Anlo State, Togbe Sri III, led the townsfolks in the celebrations.
While being carried in a palanquin, the people followed their chief amid singing and dancing to the durbar grounds where the rites will be held.
Dignitaries including, Vice President MahamaduBawumia, AsanteheneOtomfuo Osei-Tutu II, Kwahene and Ga Mantse graced the occasion.
Source: Anchorghana