GFA launches Talent Identification and Development Programme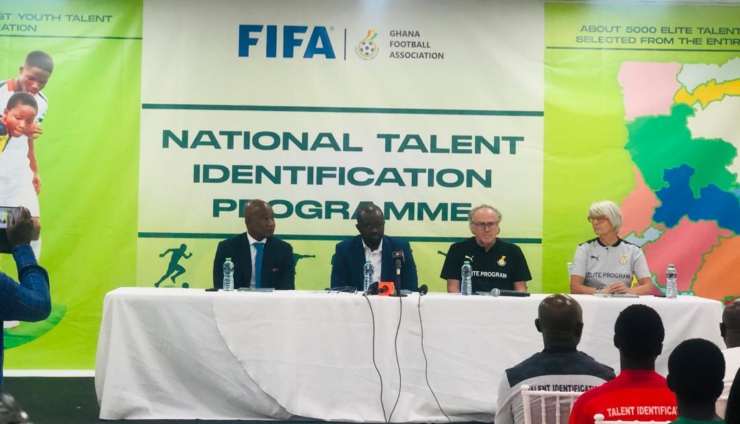 The Ghana Football Association (GFA) on Wednesday, October 5, 2022, launched the Talent Identification and Development Programme at the GFA Secretariat.
The initiative of the Talent Identification and Development Programme is to come up with a way to unearth talents across all parts of the country as well as help them with their developments for the next years ahead in the various national team.
Speaking at the launching, Papa Nii Lartey, who is the Head of the Elite Programme, explained what led to the decision to introduce the Talent Identification and Development Programme.
"About a year ago under the directive and leader of the [GFA] President and the Technical Director, we were tasked with putting together a framework of identifying the best of the best talents in the entire nation, which is called the Eite Programme" he noted.
"Based upon our analysis, we realised that for us to cover the entire nation, we will need to identify about 5,000 youth talents. The idea is that no talent will be left behind. Wherever the talent is, we will have to identify it for the Ghana Football Association."
On his part, Bernhard Lippert, who is the Technical Director, said this initiative will help to implement football ideas from the foundation.
"Today is the day where we implement things in a different way from the bottom to the top and I think this will bring all the fruits out of this work in 3-5 years to have a big foundation of top players," he said.
President of the Ghana FA, Kurt Edwin Simeon-Okraku added, "To invest in our collective future as people who belong to this football ecosystem is key and it is the wisest investment any leader can do to our sport."
"So we are not only being competitive today, we are thinking about our collective tomorrow to provide a fair playing ground for kids from the woods of Ghana to realise their dreams – their dreams of also climbing the ladder to appear at the Mundial one day.
"We have achieved a lot of milestones in the last two-and-half years but this [Talent Identification and Development Programme] is the biggest."
The project is expected to commence with a pilot programme in the Great Accra region. The pilot programme will cover the whole region with the goal being to identify 500 of the best talented juvenile players with Ghana being the first African country to begin the initiative.
Source: Joysports