Animals Take Over Dilapidated Classrooms At Bosome-Freho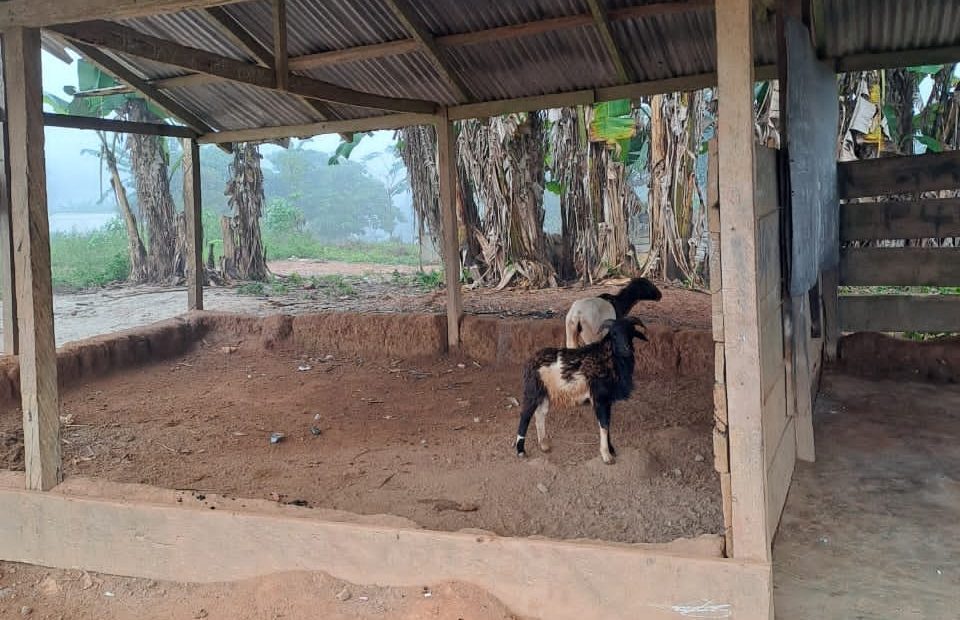 Students and teachers of the Nkwantapong D/A Primary School,in BosomeFreho, adistrict in the Ashanti Region, are struggling with animals for space, as a result of the dilapidated state of classroom structures.
Some of the classrooms, The Anchor gathered, have become the playing ground and sleeping place for stray animals, like goats, sheep and fowls, because the wooden structures do not have doors for locking.
The Anchor's information is that, the infrastructure problem of the school has existed for years, without any intervention from successive governments and the traditional leaders, though the issue has been brought to their attention on many occasions.
According to school authorities, several attempts to bring the problems in the school to the attention of their leaders have proved futile.
Teachers and school children have to come to school each morning to drive out these animals, sweep their faeces and get the classrooms cleaned before teaching and learning begin.
Some teachers who spoke on condition of anonymity say the situation often compelsthem to close the students and allow them to go home, anytime it is about to rain, because the roofs arealso not good, and leaking.
The Anchor's information is that,both the District Chief Executive (DCE) of the area, Yaw Danso, and the Member of Parliament (MP), Akwasi Darko Boateng, are aware of the problem, but remain silent with no efforts at solving it.
The MP, according to residents,is in parliament for his first time on the ticket of the governing New Patriotic Party (NPP), after he won the party's primaries against then incumbent, Joyce Adwoa Akoh Dei.
Unlike the MP, the DCE, who is in his second term, had even visited the school and promised to fix the problem, but after years, the issue remains.
The school, with nine staff members, including the headmaster, is only up to primary six, without a junior high, and the pupils had to trek miles to nearby town, called Yapesa-Kokobeng, for continuation.
Interestingly, despite the deprived nature of the school, it is not covered with the government's school feeding programme, and thus forcing pupils to starve and others drop out from school.
This, The Anchor has learnt, forced a teacher in the school to appeal to a certain non-governmental organization (NGO), John Adu-Poku Foundation, to intervene and are currently providing free meal to the students, since the beginning of the first academic year – 2021/2022.
Attempts to speak to the DCE were unsuccessful, as this paper later gathered that he is bereaved.
Source: Anchorghana