GOV'T FIGHT AGAINST GALAMSEY ON COURSE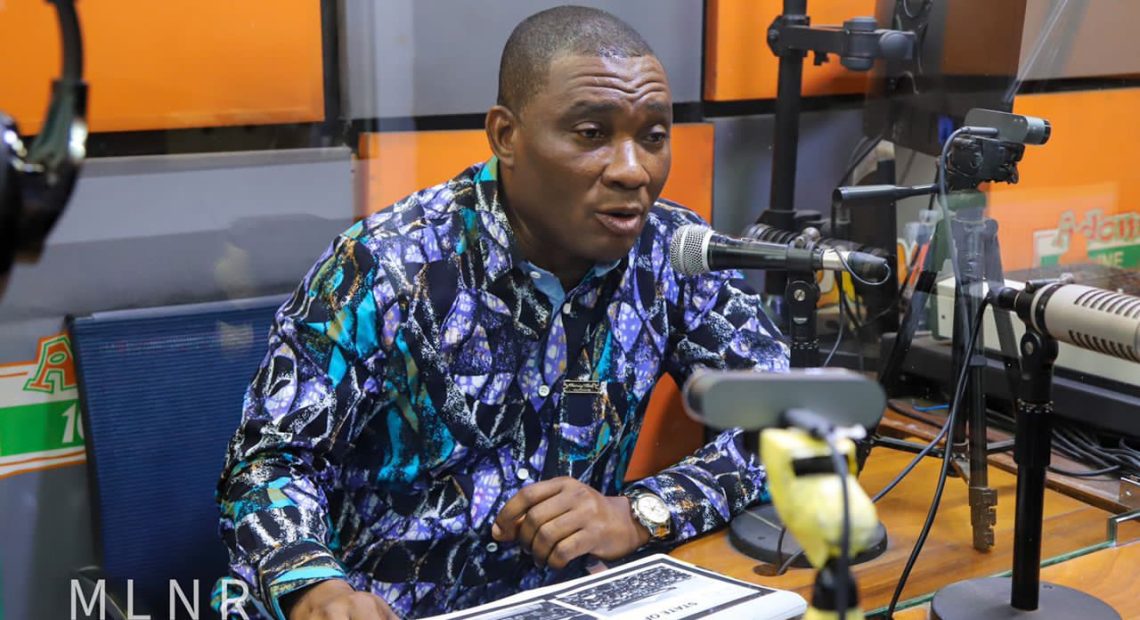 …South Africa, Sudan & Others Under Study
By: Gifty Arthur
A Deputy Minister for Lands and Natural Resources, George Mireku Duker, has rejected claims that the fight against illegal mining infamously known as 'galamasey' has failed.
According to the Deputy Minister who is in-charge of mining, Ghana's quest to stop illegal mining with various interventions, is being admired by some of its peers who are visiting the country to learn from it.
"Just last year, I think around October there about I was in the office; I had delegation from South Africa which my Minister Hon. Samuel A. Jinapor referred them to me that they are also coming to learn what we are doing here in managing our small scale sector.
A team also from Sudan came, coming to learn how we are managing. From Liberia they were also here to learn how we are managing our small scale mining. With respect to that, we will say we have done well. But for these interventions, we would have dried up our all river bodies by now, and so we really fought hard, and we must continue by moving expeditiously and make sure that we win the battle", he has revealed.
While admitting that the fight has not been completely won, he said measures put in place over the past years, have helped minimize the destructions.
Speaking in an interview on Accra-based Citi FM yesterday April 27, 2022, monitored by The Anchor, the Deputy Minister said the administration of the sector Minister Samuel Abu Jinapor, which took over from the previous Minister Prof Kwabena Frimpong Boateng, is implementing and introducing new measures to complement previous ones in order to bring the menace under control.
He said, even though, the fight appear daunting, it is something that government and the Ministry, are capable and are committed to ensure that they win.
He said the fight against illegal mining which is a shared-responsibility among stakeholders and Ghanaians, is one that the government is not going to give up on, but would follow through with clear cut measures.
Touching on the various actions and efforts put in place, the Deputy Minister noted that but for these interventions the situation would have been worst, adding, "we developed new measures to fight this galamsey. What I am telling you is that but for these measures, things would have been worst; I am telling you.
Around November, if you followed closely you will realize that the Water Resource Commission indicated that some of the river bodies were getting better; then all of a sudden it got worst. As I am talking to you the Operation Halt is under review
We would not throw our hands in despair, we will continue. Obviously, the fight is not an event, it is kind of something we need to continue, it's not something that you can say yes I have fought it, I have ended it.
All over the world, where we have gold, you see this menace and you must be on your feet at all times to fight it. So we remain resolute to fight the canker. There are measures that we have put in place", he said.
Aside conscientizing and educating people on the need to mine responsibly, Mr. Duker said "As I speak with you, there are measures that we have put in place just to make sure that, people stop especially mining in our river bodies.
What we have done now is to retool all the offices that we have in the mining districts the Minerals Commission offices; they have been given all the needed equipment to be patrolling and visiting all the areas that are prone to this illegalities.
Secondly, we've commissioned Operation Halt Two that are on the field as I speak with you to clamp down [on] these recalcitrant [miners] and third measures is to have permanent river wardens that will be patrolling along the river banks".
He also noted that they have also commissioned some river boats that will be put on the river bodies and have some security posts at vantage points where permanently they will be patrolling these river bodies, to make sure that those that are determined to destroy our river bodies out of greed will be stopped".
Also on the list is the Ministry's intervention of expansion of Community Mining Scheme (CMS) where some mining communities are included in the mining value chain.
He was confident that when all the aforementioned measures are all operationalized, level of pollution will drastically reduce.
He also maintained that there are illegal miners who have been arrested and been taken through prosecution and jailed while others are still facing trial.